Website hosting and domain registration powered by DomainNameSanity.com
---

TOTALLY TUBULAR: TV TIME
---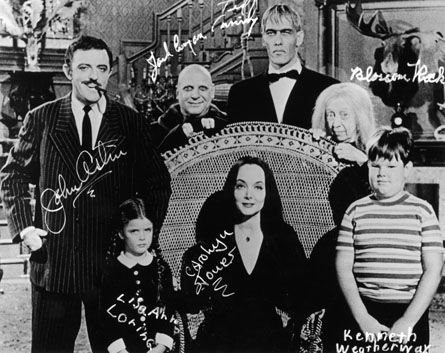 "GALL IN THE FAMILY"

THE ADDAMS FAMILY

Its sister series THE MUNSTERS may have been a slightly more conventional "family sitcom" clothed in Universal monster costumes, but THE ADDAMS FAMILY, based on cartoonist CHARLES ADDAMS' wonderfully macabre drawings, was a decidedly twisted, darkly humorous delight. JOHN ASTIN's bug eyed eccentric millionaire GOMEZ (whose hobbies including wrecking toy trains, sword swallowing and standing on his head) played enthusiastically off CAROLYN JONES' cooly detached, eerily beautiful MORTICIA. Their bizarre mansion housed, among other peculiarities, man-eating plant CLEOPATRA, a torture chamber referred to as "the playroom" and THING, a disembodied "helping hand" in a box. Freaky family members included JACKIE COOGAN's skin-headed electric personality UNCLE FESTER (whose mouth served as a light bulb socket), the hair-engulfed, chipmunk-voiced COUSIN ITT, two dead pan kids and LURCH, the harpisichord-loving, monosyllabic man servant, played to gravel-voiced perfection by six foot nine inch TED CASSIDY. VIC MIZZY's finger-snapping sing along theme, guillotine sharp writing, and inspired casting made THE ADDAMS FAMILY (which spawned two cartoon series, a major motion picture remake and a stage musical) the hip place to visit for two brief, but frightfully perfect seasons.
---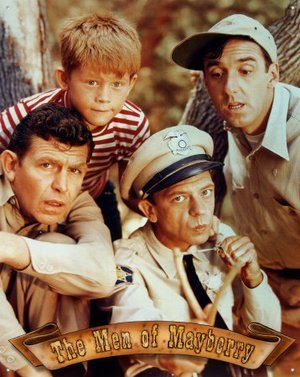 "TAYLOR-MADE TV"

THE ANDY GRIFFITH SHOW

See that signpost up ahead?...Nestled oh so comfortably somewhere between Utopia and Never-Never Land is a heavenly haven called MAYBERRY, where we would all like to dwell...where kids can walk through town unattended, the only vice available is through your local still, and haircuts are just a dollar. THE ANDY GRIFFITH SHOW was spearheaded by its namesake's amiable, problem solving SHERIFF TAYLOR, DON KNOTTS' hyperkinetic deputy BARNEY FIFE, and ANDY's sensible son OPIE, played by the most natural child actor ever, RONNY HOWARD. The large cast of eccentric inhabitants included befuddled barber FLOYD LAWSON, moonshine magnet OTIS CAMPBELL, who had his own jail cell reserved for Saturday nights, and the one and only GOMER "Goll-eeee!" PYLE. Utilized more sparingly were hilarious backwood characters such as rhyming rock-thrower ERNEST T. BASS and the bluegrass-addicted DARLING FAMILY, as well as the city-fied, hopelessly irrepressible FUN GIRLS, all quite capable of stealing a scene from even DEPUTY FIFE. The peerless first five seasons of TAGS ran in glorious, "old-timey" black & white and went down ever' bit as satisfying as one of AUNT BEA's famous Sunday dinners.
---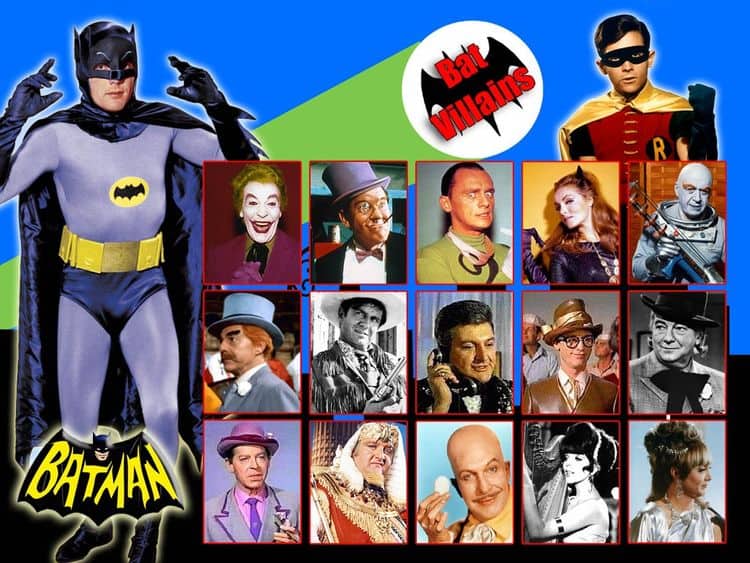 "HOLY HIJINX AND HEINOUS HUSSIES!"

BATMAN

Campy, comic book-colorful and crammed with pun-ishing dialogue, the casting in BATMAN was absolutely inspired, namely ADAM WEST as our straight-laced intrepid hero and "short-man's-syndrome" originator BURT WARD's abnormally zealous, "Holy (fill in the blank)"-spouting BOY WONDER. But the REAL fun/kitsch factor lay in the vivid, deliciously overacting arch criminals, from CESAR ROMERO's greasepaint no-goodnik JOKER to FRANK GORSHIN's hyperactively hilarious RIDDLER. Eternal character actor BURGESS MEREDITH made the waddling, cackling PENGUIN his most memorable role, while six foot goddess JULIE NEWMAR was absolutely put on this earth to don a skin-tight black catsuit and high heels. BATMAN's superhuman ability to resist her amazonian-dimensioned advances was far more impressive than the dozens of potentially lethal traps he miraculously escaped. A veritable "who's who" of show biz vets lined up each week for a crack at bad-guy infamy; VINCENT PRICE, LIBERACE, OTTO PREMINGER, MILTON BERLE, TALLULAH BANKHEAD, CLIFF ROBERTSON, VICTOR BUONO and SHELLEY WINTERS were but a few players in the nefarious rogue's gallery. On the good guy side, stand-outs included NEIL HAMILTON as the perfectly wooden, hopelessly naive COMMISSIONER GORDON...and where would the DYNAMIC DUO have been without ALAN NAPIER's loyal man-servant ALFRED? (undernourished, and in soiled bat-suits, I'll wager). Armed with the tricked out Batmobile, bottomless utility belts and over-the-top dialogue, what ultimately brought the DYNAMIC DUO down? That's easier than answering one of RIDDLER's cunning conundrums. The third season introduced the perky, high-kicking BATGIRL and a bevy of boring baddies like LORD FOGG, LOLA LASAGNA, and NORA CLAVICLE, while at the same time eliminating cliff-hangers and JULIE NEWMAR...reason enough to stop tuning in, "same BAT-TIME, same BAT-CHANNEL".
---
"WHO WANTS TO BE A MILLIONAIRE?"

THE BEVERLY HILLBILLIES

Series creator PAUL HENNING's broad take off on JOHN STEINBECK's classic GRAPES OF WRATH is one of the most familiar yarns in all of TV land. As detailed in blue grass legends FLATT & SCRUGGs' irresistible theme song, a poor mountain family strikes oil, pulls up roots and becomes the hayseed toast of the west coast. The "fish out of water" clan included easy going matriarch JED CLAMPETT (BUDDY EBSON), excitable, vittles rustling GRANNY (scene stealer IRENE RYAN), critter lovin' tomboy ELLY MAE (DONNA DOUGLAS), and sixth grade educated oaf JETHRO (MAX BAER); collectively, they misunderstood virtually everything from doorbells and pool tables to scuba diving and health clubs. Money mad banker MILBURN DRYSDALE (RAYMOND BAILEY) stopped at nothing to keep the Clampett fortune secure in his vault, assisted by his long suffering secretary JANE HATHAWAY (NANCY KULP), a prim and proper OLIVE OYL who held an unrequited torch for JETHRO. Reviled by critics but loved by legions of fans, THE BEVERLY HILLBILLIES was as much rib-tickling fun as a square-dance hootenanny down by the "cement pond".
---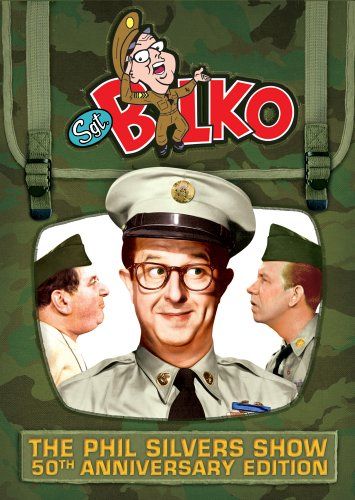 "ARMY-GEDDON"

SGT. BILKO/THE PHIL SILVERS SHOW:

There was never another TV series remotely like BILKO, even though several attempts, from MCHALE'S NAVY and F TROOP to cartoon connivers TOP CAT and HOKEY WOLF, were launched in its aftermath, none approaching a sliver of its greatness. PHIL SILVER's ultimate wheeler-dealer SGT. ERNIE BILKO was the loudest, most memorable and funniest personality to ever fleece an Army post, his relentless rat-a-tat machine gun delivery totalling more words per minute than any actor in sitcom history. He sweet-talked, double-talked, and out-talked everyone in his wake, from PAUL FORD's perpetually hornswaggled COLONEL HALL on down to his own rag-tag platoon, notably MAURICE GOSFIELD's putty-faced PRIVATE DOBERMAN (who repeated the role as the voice of TOP CAT's fave flunkie BENNY). Character actors ALLAN MELVIN and HARVEY LEMBECK aided their superior in all manner of get-rick-quick shenanigans from the "Little Las Vegas" shangri-la known as FORT BAXTER, KANSAS...mink farms, pigeon races, glow in the dark crap games...nothing seemed beyond BILKO's sticky grasp. Audiences never tired of the con, as SILVERS played the same basic schemer throughout the rest of his career, including memorable guest turns in IT'S A MAD, MAD, MAD, MAD, MAD WORLD, THE BEVERLY HILLBILLIES, and GILLIGAN'S ISLAND. Even as he picked your pocket, beneath that gruff exterior lurked a heart of (what else?) "pure gold".
---
WHAT A DRAG!

BOSOM BUDDIES

Woefully short lived (only 37 episodes) and underappreciated, this fast paced sitcom starred future film superstar TOM HANKS and future NEWHART regular PETER SCOLARI, who played KIP WILSON and HENRY DESMOND, a "Mutt and Jeff" team of the highest comedic order. The kooky cast included their snarky ad exec boss RUTH DUNBAR (HOLLAND TAYLOR), statuesque blonde/object of KIP's affections SONNY, played seductively by DONNA DIXON, sassy former TONY ORLANDO & DAWN singer TELMA HOPKINS as ISABELLE and the wonderful WENDY JO SPERBER as plus-sized, HENRY-hungry AMY CASSIDY. Forced to assume their sibling alter egos BUFFY and HILDEGARD in order to live in the Susan B. Anthony hotel for women, KIP and HENRY were like LAVERNE & SHIRLEY and LENNY & SQUIGGY all rolled up into one. Reveling in endless pop culture references, groan-worthy puns, inevitable wardrobe malfunctions and genuinely funny slapstick on behalf of the two immensely likable stars, BOSOM BUDDIES virtually defined "must-see TV" in the early eighties.
---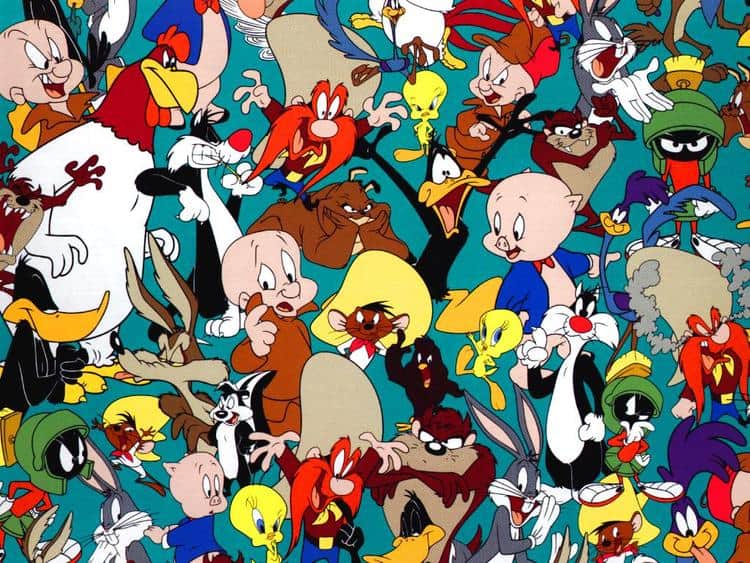 "HMMMMM...PRONOUN TROUBLE!"*

THE BUGS BUNNY SHOW

Ever notice that nearly every single major Looney Tunes star had some sort of a speech impediment or accent issue? Think about it...Elmer Fudd's was vewwwy pwominent. Tweety uttered baby talk, and Sylvester had the thloppietht lithp thith thide of Thindy Brady. The Tazmanian Devil rarely strung more than a couple of intelligible words together, Pepe Le Pew spouted fractured French, and Speedy Gonzales is nowadays considered politically incorrect for his stereotypical south of the border delivery. And I don't even wanna get INTO Porky Pig's problems. Only fast-talking Bugs Bunny his own wascally self seemed to escape unincumbered in the diction department (he only spoke in brash Brookyln-nese, quite fitting for such a lovable stinker). My point, you ask? Quite simply, Mel Blanc's superhuman (supercritter?) voice characterizations ALONE would easily qualify these as the greatest collection of cartoon clowns, connivers, and crazies ever to grace celluloid. But that's not all, folks! Throw in directors extraordinaire Chuck Jones, Friz Freleng and Bob McKimson, magical musical maestro Carl Stalling, and the dozens of top-drawer animators and writers who made these 'toons so looney, and you've got 14 cawwot gold, Doc!

* Daffy Dumas Duck
---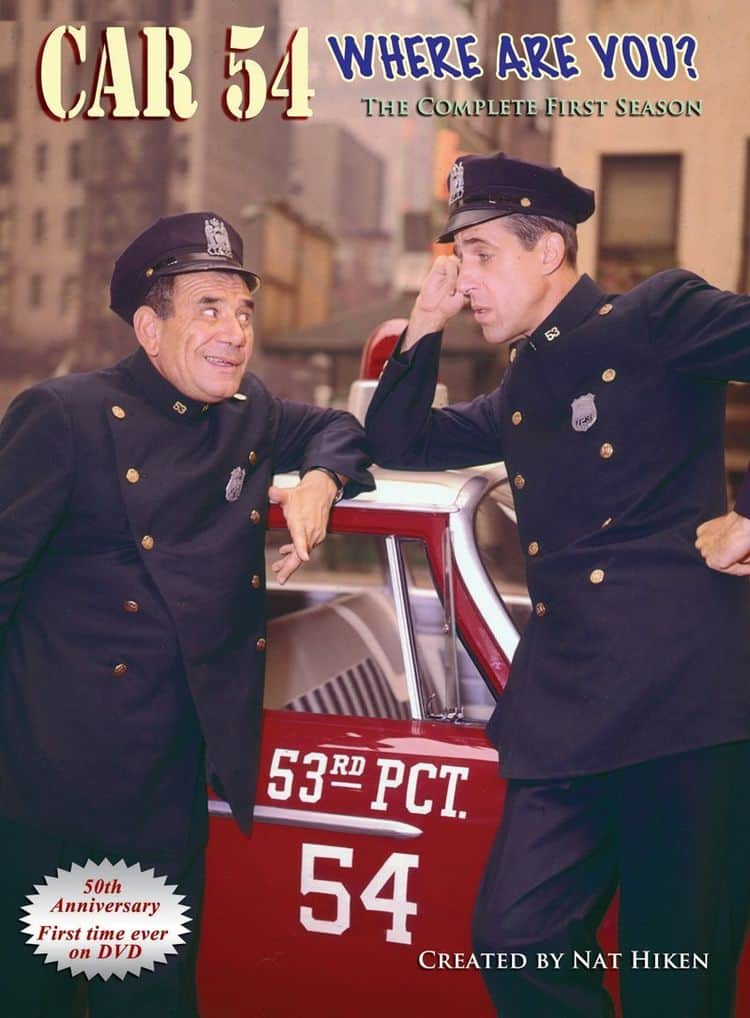 "OOH! OOH!"

CAR 54, WHERE ARE YOU?

Riddled with even more slapstick than THE PHIL SYLVERS SHOW, creator NAT HIKEN's previous TV smash, CAR 54, WHERE ARE YOU? followed the hilarious hijinx of excitable, none too bright NYPD cop GUNTHER TOODY (JOE E. ROSS, who played a similar role as kooky SGT. RITZIK on BILKO) and the quieter, more sensible mama's boy FRANCIS MULDOON (FRED GWYNNE, pre-HERMAN MUNSTER). The loud, eclectic cast was rounded out by AL LEWIS (the future GRANDPA MUNSTER) as Officer LEO SCHNAUSER, CHARLOTTE RAE as his wacky wife SYLVIA, and PAUL REED's long suffering CAPTAIN BLOCK, not to mention many familiar BILKO faces in smaller roles; the unorthodox procedures and general chaos that ruled NYPD's 53rd precinct doubtedly served as inspiration for BARNEY MILLER many years later. Filmed on location in the Bronx and armed with fast-paced, preposterous plots, an unforgettable theme song ("There's a holdup in the Bronx, Brooklyn's broken out in fights...") and a razor sharp cast, CAR 54 was "just the ticket" among early sixties sitcoms.
---
JUST TO HAVE A LAUGH AND SING A SONG...

THE CAROL BURNETT SHOW:

THE CAROL BURNETT SHOW spotlighted television's most versatile comedienne; she portrayed dozens of memorable characters including CHARO, GLORIA SWANSON and JOAN CRAWFORD take offs, plus brain-dead secretary MRS. WHIGGINS...as opposed to LUCY, who always played "LUCY". Whether busting out rubber faced slapstick, duetting with stars like JIM NABORS and JULIE ANDREWS, or wittily fielding questions from the studio audience, this former GARY MOORE SHOW standout could do no wrong. Flanked by the best bunch of "second bananas" in history, BURNETT's secret weapon was HARVEY KORMAN, who could play anything from Hollywood has-beens to fussy floorwalkers and German dictators...but couldn't keep a straight face around mischievously unpredictable ad-libber TIM CONWAY. Straight man/stud LYLE WAGGONER and the redoubtable VICKI LAWRENCE (whose crotchety southern matriarch MAMA earned a series spin-off) rounded out the dream cast. A beloved potpourri of glitzy BOB MACKIE wardrobes, elaborate film parodies and game guest stars, THE CAROL BURNETT SHOW was the last and arguably greatest of all TV variety programs.
---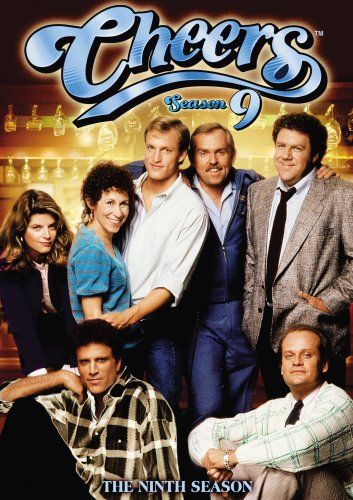 "BREW-HA-HA"

CHEERS

An undisputed "top shelf" ensemble sitcom, Boston based watering hole CHEERS was the place "where everybody knew your name"...especially if it happened to be NORM...but amazingly, no one ever seemed to smoke or play the jukebox. CHEERS' colorful employees and patrons were as quirky and charismatic a cast as any ever assembled for TV...TED DANSON's skirt chasing former SOX hurler SAM MALONE, SHELLEY LONG's intellectual snob DIANE CHAMBERS, KIRSTIE ALLIE's hapless golddigger REBECCA HOWE, naive country boy WOODY BOYD, acid-tongued waitress CARLA TORTELLI, barstool buddies CLIFF (the know-it-all) and NORM (the fixture), KELSEY GRAMMER's droll shrink FRASIER CRANE and his unemotional spouse LILITH...colorful people we all knew in real life, or at least would gladly share a brew with if we encountered them. Stellar writing, eccentric recurring regulars, and cool guest stars such as JOHN CLEESE, CELTICS legend KEVIN MCHALE, and HARRY CONNICK JR helped make CHEERS "the" place to visit for eleven fun-filled seasons...a vintage destination that, like a fine wine, actually improved with age.
---
"MCCOOL & THE GANG"

COOL MCCOOL-THE COMPLETE SERIES

When BATMAN became a boob-tube phenomenon in 1966, its creator BOB KANE also launched his zany animated spy spoof COOL MCCOOL, a bumbling secret agent who spoke in JACK BENNY-esque tones and gave headaches to both the underworld and his excitable (though never fully revealed) boss, NUMBER ONE. Other than human wind machine HURRICANE HARRY and the slithery, plant controlling RATTLER, the colorful cast of cackling criminals were reminiscent of Gotham City's baddies, from PENGUIN knock off THE OWL and JOKER-like prankster JACK IN THE BOX to MAD HATTER clone DR. MADCAP. Voice pros BOB MCFADDEN and CHUCK MCCANN provided the show's punchy personalities; MCCOOL's oft repeated "That will NEVER happen again, Number One!" and "Danger is my business!" smacked appealingly of Agent 86's best known tag lines. Featuring high tech gizmos including the mustache phone and Lassie-loyal Cool Mobile, this inventive, gag heavy toon (with its snappy guitar driven theme song) was a notch above most Saturday morning fare of the era...a fun filled free-for-all that will NEVER happen again.
---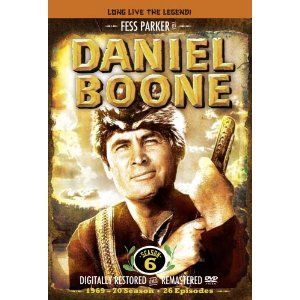 "THE FINAL FRONTIER"

DANIEL BOONE

It may not have boasted DAVY CROCKETT's hit single status, but the catchy theme song claimed, "DANIEL BOONE was a man...yes a BIG man"...series head FESS PARKER topped out at six and a half feet, a clear case of truth in advertising. The former star of WALT DISNEY's phenomenally successful CROCKETT didn't even have to change coonskin caps for his long-running follow up hit. This fairly violent program featured the brave frontiersman, explorer, and occasional Indian fighter protecting the settlers of Boonesborough, including his sensible wife REBECCA, teen daughter JEMIMA and young son ISRAEL. Semi-regular cronies in later seasons included country warbler/future pork sausage king JIMMY DEAN, character actor ALBERT SALMI and ex-footballer ROSIE GRIER...but it was singer ED AMES' sensitive portrayal of cultured half-Cherokee MINGO who proved almost as popular as PARKER himself. Part western, part action/adventure series, DANIEL BOONE may have been technically inaccurate in order to fit in every historical visitor imaginable, but there was always a moral to be had when the big man laid down his rifle.
---
"RIB ROAST"

DEAN MARTIN CLEBRITY ROAST-COLLECTORS EDITION

Undisputed "King of Cool" DEAN MARTIN was famous for pop hits like THAT'S AMORE and EVERYBODY LOVES SOMEBODY, a string of comedy flicks partnered with JERRY LEWIS, his RAT PACK membership and a laid back, "is he or isn't he snockered?" persona that served him well on television. The DEAN MARTIN CELEBRITY ROAST honored only the biggest of the big...JACK BENNY, JOHNNY CARSON, LUCILLE BALL, JIMMY STEWART, JACKIE GLEASON, BOB HOPE and ol' Dino himself, to name but a few. Regular zinger slingers included an endless parade of big name actors, comedians, sports figures and politicians, including DON RICKLES, ORSON WELLES, RICH LITTLE, MILTON BERLE, "lovable lush" FOSTER BROOKS, RUTH BUZZI (in homely, purse swinging GLADYS ORMPHBY mode) and surprise guests (CASEY KASEM as HITLER?!). Each segment was a hilarious, barely controlled free for all loaded with witty barbs, ad libs and racy one liners...not to mention obligatory "reaction shots" inserted after nearly every joke. From Dino as the lovable "toasted master" to the cream of Hollywood on each dais, everyone seemed to be having the time of their lives...trust me, it's contagious.
---
"PRIVATE DICK"

THE DICK TRACY SHOW-COMPLETE SET:

Made for TV cartoons of the sixties utilized "limited animation", a money saving technique pioneered by UPA and HANNA BARBERA, whose programs depended greatly on voice characterizations to carry the story. Adapted oh so loosely from CHESTER GOULD's popular comic strip, THE DICK TRACY SHOW was played for laughs, with its lantern jawed detective (character actor EVERETT SLOAN) mostly outsourcing crime capers from behind a desk. His team of bungling gumshoes consisted of CARY GRANT-channeling bulldog HEMLOCK HOLMES, the CHARLIE CHAN clone JOE JITSU, GO GO GOMEZ (MEL BLANC doing a less hyper variation of his SPEEDY GONZALES) and apple filching beat cop HEAP O' CALLORY (think ANDY DEVINE). GOULD's grotesque gallery of villains, here given personalities patterned after famous film baddies, included BB EYES (EDWARD G. ROBINSON), FLAT TOP (PETER LORRE) and THE BROW (JAMES CAGNEY) and proved every bit as inept as their captors. Each five minute 'toon featured a brief "Crimestopper Tip", most of which now seem hilariously dated...unlike TRACY's ultra-cool two way wrist radio, the "cell phone" of its era. "Six, two and even...over and out!"
---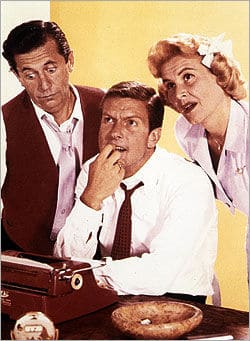 "OHHHHHHHH, ROBBBBB!...."

THE DICK VAN DYKE SHOW

Based on creator CARL REINER's experiences as a writer/actor for "golden age" TV series YOUR SHOW OF SHOWS, TDVDS starred the more versatile rubber-limbed comic DICK VAN DYKE. ROB PETRIE, head scribe for the fictional ALAN BRADY SHOW (REINER made scene stealin' cameos as its meglomaniacal star), was ably supported by borscht-belt comics ROSE MARIE and MOREY AMSTERDAM as his wisecracking staff, and MARY TYLER MOORE as his charming hand-wringer of a wife LAURA. Unlike its sitcom predecessors, PETRIE's work life was given as much screen time as his domestic adventures in a comfy New Rochelle suburb. Going to the office seldom seemed so inviting, especially one so equipped with sofa, TV, dartboard, and other creature comforts. RICHARD DEACON's unflappable producer MEL COOLEY interrupted the highjinks often, even though viewers knew he was really just ALAN BRADY's whipping boy (not to mention BUDDY SORRELL's). Slapstick bits, comedy monologues, and vibrant song and dance routines were all woven seamlessly into the plotlines, giving the talented cast a chance to mug and shine. Sexy and chic ROB & LAURA PETRIE were TV's classiest couple, and the intelligent scripts, often supplied by REINER, placed the show several rungs above the competition. This is as sophisiticated, hip and hilarious as early 60s TV ever got. VAN DYKE himself has admitted that doing this series was the most fun he ever had...and it shows in every warm embrace and pratfall.
---
"DUCK THAT"

DUCKMAN:

"Trapped in a world he never created", as its tag line went, DUCKMAN, everyone's favorite porn obsessed, self centered, socially inept private investigator lorded over a lascivious, avant garde looney-verse in this animated free-for-all. Playing a nastier, even less politically correct version of his SEINFELD character GEORGE COSTANZA, JASON ALEXANDER pumped repugnant, ranting personality into underground comic artist EVERETT BECK's intrepid anti-hero. Putting the "funk" in dysfunctional family was over bearing, health nut sis-in-law BERNICE (NANCY TRAVIS), dim bulb Valley dude son AJAX (DWEEZIL ZAPPA), sensible two headed offspring CHARLES and MAMBO, a flatulent grandmother and his intellectual JOE FRIDAY-inspired work partner, CORNFED PIG. DUCKMAN hilariously lampooned society's seedy underbelly (from phone sex and tabloid journalism to cosmetic surgery and reality TV), peppered with rapid fire dialogue, pop culture pot shots and bizarre-o characters seemingly sucked from the minds of R. CRUMB, ED WOOD and JOHN WATERS. You either "got it" or you didn't...and you can bet your tail feathers DUCKMAN probably coulda cared less either way.
---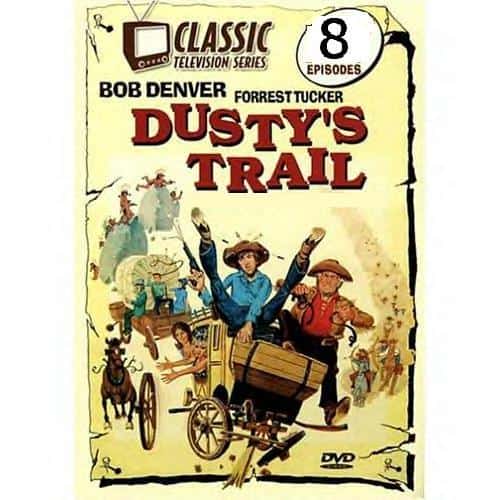 "HOW THE WEST WAS DUMB"

DUSTY'S TRAIL

"GILLIGAN'S ISLAND GOES WEST" is the best way to describe creator SHERWOOD SCHWARTZ' short lived syndicated sitcom of the early seventies. Instead of seven luckless castaways marooned on a tropical isle, it's the same number of folks in a wagon train lost out in the wilderness. Rather than BOB DENVER as bumbling, clueless first mate GILLIGAN, it's BOB DENVER as bumbling, clueless trail scout DUSTY (not much of a stretch for the man who once shone as beatnik MAYNARD G. KREBS). Authentic western actor FORREST TUCKER is the often exasperated, but protective wagon master, a cross between the SKIPPER and his SGT. O'ROURKE character from F TROOP. Along for the ride are a stuffy rich couple (including ROOM 222 regular IVOR FRANCIS putting on his best THURSTON HOWELL III face), an intellectual, and a pair of bodacious babes, played by two of the PETTICOAT JUNCTION sisters (JEANNINE RILEY and LORI SAUNDERS). If it all sounds a bit too familiar, take left at rock that look like bear, then right at bear that look like rock.
---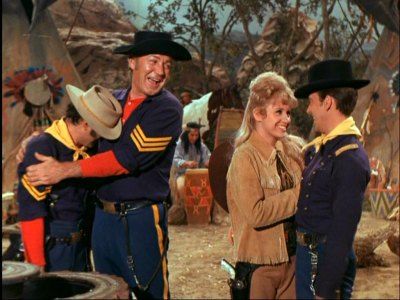 "GIMME AN F!..."

F TROOP:

The military frontier sitcom F TROOP never had a chance to wear out its welcome during its pair of seasons, one in vivid black and white, the other in glorious color; the series' criminally short run all but ensured its continuing "cult classic" status. LARRY "CORPORAL AGARN" STORCH, lovable ham that he was, stole every scene he was ever in (except maybe the ones with the hilariously chicken-hearted Heckowi Indians). KEN BERRY's naive, klutzy CAPTAIN PARMENTER was no match for MELODY PATTERSON's rawhide-wrapped sexpot WRANGLER JANE, and FORREST TUCKER held it all together with rugged con man charm as SGT. O'ROURKE. Even the second bananas, from tone-deaf bugler DOBBS and myopic VANDERBILT to Alamo veteran ratchet-jaw DUFFY added much to the merry mix. That's not even counting the roster of kitschy guest stars, including PAT HARRINGTON (as B. WISE, a takeoff on GET SMART), DON RICKLES, HARVEY KORMAN, JULIE NEWMAR, PHIL HARRIS, MILTON BERLE, VINCENT PRICE, LEE MERIWETHER, HENRY GIBSON and many more semi-legends. Broad slapstick, poorly aimed cannons, and slapstick mayhem were the rule, not the exception at FORT COURAGE...whoever said "War is hell" probably never saw F TROOP!
---
"THE FAMILY STONE"

THE FLINTSTONES

HANNA BARBERA's modern stone-age take on THE HONEYMOONERS was the first animated sitcom made for prime time, an easy contender for best loved, most enduring cartoon series ever. Character actor ALAN REED voiced loudmouthed caveman FRED FLINTSTONE and LOONEY TUNES legend MEL BLANC was his even-tempered best pal BARNEY RUBBLE, frequent foils for their sardonic, ultimately smarter wives WILMA and BETTY; the cast was rounded out by hyperactive pet runtasaurus DINO and cute kiddies PEBBLES and BAMM BAMM. The action took place in BEDROCK, where FRED drove a foot-powered automobile and dwelled in a typical split-level cave tricked out with all the latest animal-powered conveniences, including bird beak phonographs and pig garbage disposals that often provided cheeky commentary. Kitschy guest stars ranging from music group THE BEAU BRUMMELSTONES to HOLLYROCK icons STONEY CURTIS and ANN MARGROCK (voiced by the actors themselves) turned up, along with lampoons of everything from THE ADDAMS FAMILY and BEWITCHED to JAMES BOND and ALFRED HITCHCOCK. Boasting some of animation's most colorful characters, sharpest writing and most memorable theme songs, THE FLINTSTONES were truly pop culture's first "rock stars".
---
"MISSION IMPOSSIBLES"

FRANKENSTEIN JR. & THE IMPOSSIBLES:

One of limited animation pioneer HANNA-BARBERA's earliest forays into sci-fi super heroes, in spite of the title, FRANKENSTEIN JR. & THE IMPOSSIBLES were two separate crime busting entities. Given a deep, bottomless voice by TED (LURCH) CASSIDY, "FRANKIE", took its cues from Japan's GIGANTOR and JOHNNY SOCKO AND HIS FLYING ROBOT series, a mechanical giant controlled by his creator, boy scientist BUZZ CONROY (DICK BEALS, who also voiced SPEEDY ALKA-SELTZER, and characters in DAVEY & GOLIATH and ROGER RAMJET). THE IMPOSSIBLES, who moonlighted as a rock and roll trio, were in reality COIL MAN (HAL "OTIS CAMPBELL" SMITH), who stretched endlessly like a spring, FLUID MAN (PAUL FREES), who could transform his body composition into liquid and MULTI MAN (HB mainstay DON MESSICK), who cloned himself at will. Lodged squarely between the seriousness of SPACE GHOST and the slapstick of THE MIGHTY HEROES, FRANKENSTEIN JR. & THE IMPOSSIBLES, though short lived, proved one of the mid sixties' more entertaining Saturday morning thrill rides.
---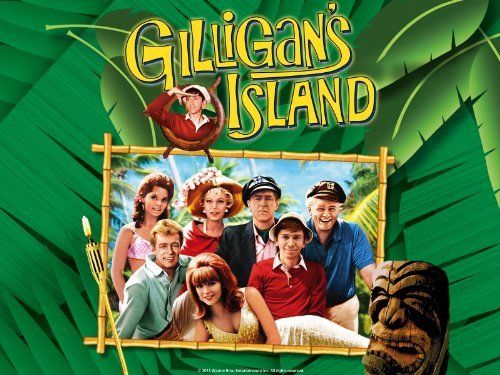 "THE MAGNIFICENT SEVEN"

GILLIGAN'S ISLAND

If only for the jaunty sing-a-long theme neatly summarizing their plight, the premise of GILLIGAN'S ISLAND is burned indelibly into the minds of practically everyone who's ever clicked on the boob-tube...seven shipwrecked castaways including a millionaire couple, a genius, and two smokin' sex kittens (one who knew it and one who didn't) with only their beloved SKIPPER and his hapless first mate GILLIGAN as "leaders". All roles were played to the absolute hilt; BOB DENVER (fresh off his DOBIE GILLIS stint as work-shy beatnik MAYNARD G. KREBBS) was a bungling STAN LAUREL to ALAN HALE's slow-burning OLIVER HARDY, while JIM (MR. MAGOO) BACKUS' hilariously money-hungry THURSTON HOWELL III and TINA LOUISE' MARILYN MONROE-channeled movie starlet GINGER GRANT were also stand-outs. Coconut telegraphs, sail-tailored sarongs, and fantasy dream sequences aside, the most preposterous part of GILLIGAN was the dizzying array of guest stars momentarily stranded on the very same uncharted tropic isle (including ZSA ZSA GABOR, a pre-teen KURT RUSSELL, and PHIL SILVERS) and the crew's astounding inability to turn these invasions into a ticket back home. Astronauts, Japanese sailors and headhunters were also commonplace in creator SHERWOOD SCHWARTZ' slapstick microcosm of society, which spawned two cartoon spinoffs, three hugely popular reunion movies, and a short-lived DENVER-led rip off series called DUSTY'S TRAIL. Who sez there's no life after death?...
---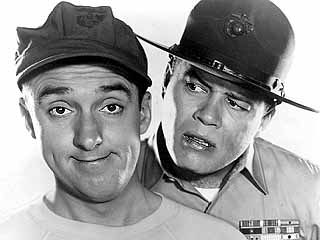 "MC YAMMER"

GOMER PYLE-USMC:

After two scene stealing seasons as the eternally cheerful filling station attendant on THE ANDY GRIFFITH SHOW, JIM NABORS graduated to his own smash series GOMER PYLE-USMC; his naive do-gooding military bumpkin was a direct descendent of GRIFFITH's own breakthrough portrayal of NO TIME FOR SERGEANTS' green private WILL STOCKDALE. In stark contrast to PYLE's gentle, wide eyed Marine given to oubursts such as "Gol-leee!" and "Shazam!" was his bellowing bulldog of a drill instructer SGT. CARTER, beautifully overplayed by FRANK SUTTON. Most military sitcoms from MCHALE'S NAVY to M*A*S*H relied on large ensemble casts, but GOMER was basically a two man affair, a weekly showdown between teacher and pupil (it was often hard to tell which was which) with the hard headed sergeant regularly sucked into PYLE's unassuming vortex of incorruptability and human kindness. Viewers of all ages were sucked in as well, as GOMER PYLE marched to top ratings for five funny seasons, a snappy salute to one of the sixties' best written, well acted, most enjoyable sitcoms...surprise, surprise, surprise.
---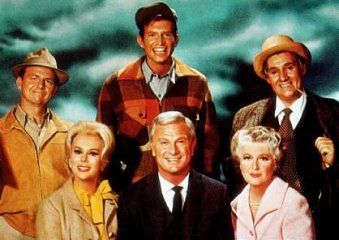 "SIMPLE GREEN"

GREEN ACRES

No one in the sleepy whistle-stop town of HOOTERVILLE seemed quite "normal" other than transplanted big city lawyer turned gentleman farmer OLIVER WENDALL DOUGLAS, brilliantly underplayed by EDDIE ALBERT. His perpetually dilapidated homestead also housed EVA GABOR's ditzy spouse LISA, who specialized in not-so-hotcakes, glamorous gowns, and fractured English. Spacey farm hand EB, county agent HANK KIMBALL, who seemed incable of completing a thought, not so handy men ALF & RALPH, and money-hungry traveling salesman MR. HANEY (played by ex-GENE AUTRY sidekick PAT BUTTRAM) rounded out the quirky cast; general store proprieter SAM DRUCKER pulled double duty on GREEN ACRES' slightly less warped sister show PETTICOAT JUNCTION. In spite of this collection of eccentric characters and colorful rubes, the spotlight was regularly hijacked by that lovable ham ARNOLD ZIFFEL, a TV watching pig whose grunting everyone understood...except OLIVER, of course. The series' insanely catchy theme song, guest appearances from the PETTICOAT JUNCTION cast, and surreally hilarious plotlines helped sow the seeds of GREEN ACRES' success.
---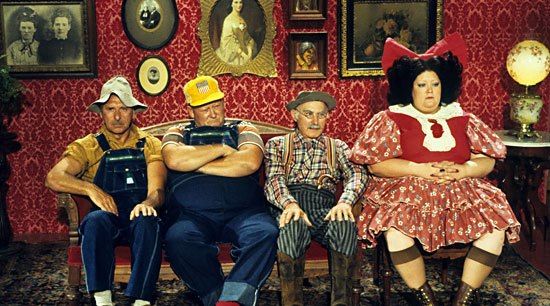 "YEE HAW!"

HEE HAW

As a youngin', I faithfully watched HEE HAW for the jokes. When I got a little older, I watched it for the girls, comely Daisy May clones one 'n all. Then, when I got even a little older than THAT, I tuned in for the unparalleled music. You could say HEE HAW worked for me on several different levels. This hick spin on LAUGH IN will always be fondly remembered for bodacious babes with bits of hay in their hair, bumpkin jokes older than your great-granny's bloomers, and above all, more classic country music than you could shake a shotgun at. Hosted by super picker ROY CLARK and twang titan BUCK OWENS, each episode featured licks, skits, and quips with Kornfield Kounty regulars like banjo pickin' GRANDPA JONES, plus-sized LULU ROMAN, tall tale teller ARCHIE CAMPELL and slowwwww-talkin' good ole boy JUNIOR SAMPLES. Throw in legendary guest stars from LORETTA LYNN and GEORGE JONES to JOHNNY CASH and MERLE HAGGARD and you'll have a pretty good idea of why this high-falutin' hootenanny stayed on the air for two decades...well, besides the obvious allure of those HEE HAW HONEYS. S-A-A-A-A-A-LUTE!
---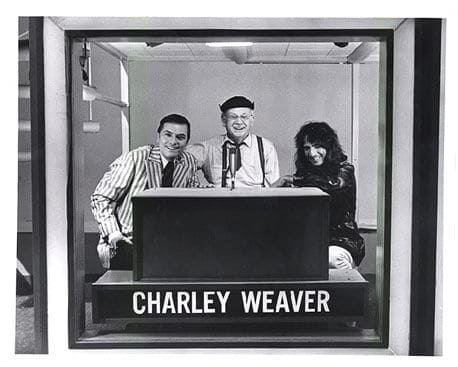 "HIP TO BE A SQUARE"

THE HOLLYWOOD SQUARES

The most star-studded, joke-infested game show to ever hit the boob-tube, the tic-tac-toe oriented HOLLYWOOD SQUARES featured celebrities big and small fielding questions that spawned a lot more jokes than straight answers. Beloved regular "squares" included man-hungry ROSE MARIE, sly senior citizen CHARLEY WEAVER, dry-witted WALLY COX, and the one and only PAUL LYNDE, famous for his barrage of snarky one-liners and trademark sneer. Bona fide movie stars, sports figures, TV icons, pop singers, night club comics, even MUPPETS rubbed shoulders to share quips, bad puns, and career plugs alike on this fun filled free-for-all; BURT REYNOLDS, REDD FOXX, CHARO, ERNEST BORGNINE, MEL BROOKS, SALLY FIELD, ALICE COOPER, BETTY GRABLE, DON RICKLES, and VINCENT PRICE, who normally didn't do quiz programs, all showed up on the SQUARES. It's impossible to tell who had the most laughs...the celebs, the viewers, or ever-grinning host PETER MARSHALL; THE HOLLYWOOD SQUARES was every bit as entertaining as any talk or variety series of its era, and by far the funniest quiz program of all time.

Peter Marshall: If the right part comes along, will George C. Scott do a nude scene?

Paul Lynde: You mean he doesn't have the right part?
---------------------------------------
Peter Marshall: Is there a weight limit for bags on airline flights in this country?

Charley Weaver: If she can fit under the seat, she can fly.
--------------------------------------
Peter Marshall: Spiro Agnew was in the infantry during World War Two. Was he decorated?

Wally Cox: He looked really pretty in the puka shells but they made him take them off...

---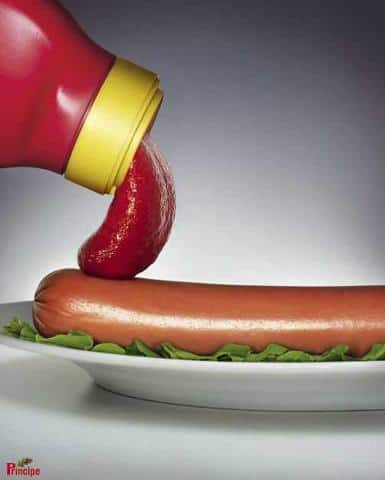 "FRANKLY SPEAKING"

A HOT DOG PROGRAM

RICK SEBAK has produced a heavenly handful of fun-filled documentaries which air regularly on PBS, but this one is truly "top dog". Narrated in the film maker's warm, conversational tones, A HOT DOG PROGRAM guides the viewer on a gastronomical cross-country road trip of America's favorite red hot spots, showcasing regional variations such as cooking methods, unusual toppings, complementary side dishes, and of course, the rabid fans who sell and devour them with gusto. From a tube steak-eating contest at Brooklyn's world famous NATHAN's to an enterprising soul hawking "reindeer dogs" in (where else?) Alaska to a behind the scenes look at the factory process of creating frankfurters (with and without skins), this kitschy culinary delight will leave your mouth watering for each new segment. Everyone is smiling and everyone is hungry, and why not?...like the subject matter itself, A HOT DOG PROGRAM bears up to repeat encounters; only a real weinie would turn down a tasty treat as satisfying as this.
---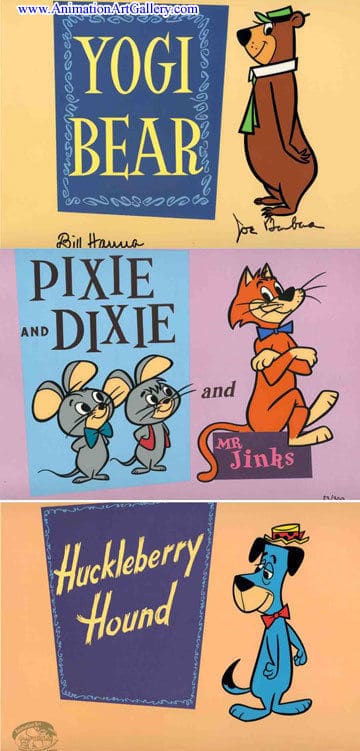 "SOMETHING TO HOWL ABOUT!"

THE HUCKLEBERRY HOUND SHOW

HUCKLEBERRY HOUND, one of limited animation kings HANNA-BARBERA's earliest success stories, was cartoondom's easy going, "My Darling Clementine" humming everyman who nonchalantly tackled any role bestowed on him...be it farmer, cop, or cabbie...all for the sake of a laugh. Unlike most HB celebrities who had a chatty sidekick, HUCK braved it alone, commenting directly to the audience (in voice master DAWS BUTLER's deliciously slow southern drawl) on ridiculous, slam-bang situations while squaring off against conniving crows, goofy gorillas, and irritating insects. Co-stars seen in separate segments, mostly voiced by BUTLER, included the irrepressible, ART CARNEY-like YOGI BEAR, who soon graduated to his own series, and bosum buddy rodents PIXIE & DIXIE, who plotted against broom wielding, hep talking feline MR. JINKS. THE HUCKLEBERRY HOUND SHOW offered some of the finest, funniest fare late fifties TV had to offer for kids and adults alike...of the dozens of anthropomorphic HANNA-BARBERA efforts that followed in its wake, only the YOGI BEAR and QUICK DRAW MCGRAW programs ever approached its wry wit, laid back charm and character-driven charisma.
---
"OH, BROTHER!"

THE HUDSON BROTHERS RAZZLE DAZZLE SHOW

In the "anything goes" decade that was the seventies, THE HUDSON BROTHERS...sort of a poor man's MARX BROTHERS/MONKEES trio, enjoyed fleeting success via a short lived night time variety series and this loud, colorful Saturday morning sequel. Long haired and semi-charismatic, ever grinning BRETT, MARK & BILL warbled their fluffy pop hits SO YOU ARE A STAR and RENDEZVOUS while hosting this hodgepodge of general mayhem. The cast included a talking bear, zany ex-SONNY & CHER regulars TED ZEIGLER, MURRY LANGSTON and BILLY VAN (even the laugh track was lifted from that old series) and ROD HULL AND EMU, a hilariously out of control bird puppet from "down under". Best remembered, if at all, for its CHUCKY MARGOLIS skits (featuring BRETT as an irascible, mealy mouthed grade schooler), THE HUDSON BROTHERS RAZZLE DAZZLE SHOW pretended to be nothing more than it was...a sugary shot of fast paced slapstick aimed squarely at the cartoon 'n cereal set.
---
"CHEAP THRILLS"

THE JACK BENNY PROGRAM

One of the most beloved entertainers of all time, vaudeville trained comedian JACK BENNY's impeccable timing, laconic delivery and priceless hand to cheek pauses proved a major influence on JOHNNY CARSON, KELSEY GRAMMAR and countless other stars. Memorable for his trademark vanity and legendary stinginess, the blue eyed, violin butchering, 39 years young comedian played easily exasperated host to an air tight ensemble on his TV show within a show. Rounding out the cast were jovial, rotund announcer DON WILSON, DENNIS DAY's bumbling Irish tenor, gravelly voiced, wisecracking valet ROCHESTER, and cartoon voice expert MEL BLANC's array of kooks. Unfortunately, a few memorable radio characters like party-hearty band leader PHIL HARRIS weren't included in BENNY's smooth transition to TV, its lone flaw. The impressive guest star list included a who's who of Hollywood, from THE DUKE and BOGIE to his real life best pal GEORGE BURNS, which hardly hurt THE JACK BENNY PROGRAM's status as Sunday night's most hilarious staple for over a decade.
---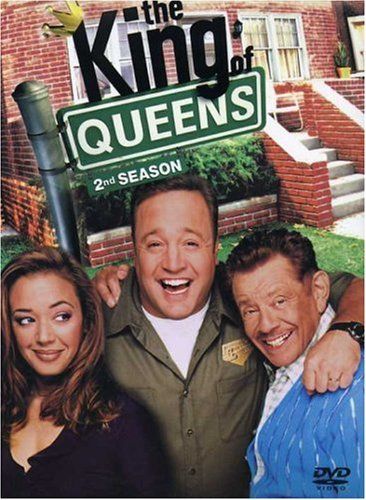 "KING OF HIS CASTLE"

THE KING OF QUEENS

Taking its cue from THE HONEYMOONERS, one of the most influential TV sitcoms ever, THE KING OF QUEENS features stand-up comic KEVIN JAMES as RALPH CRAMDEN-like lovable loser DOUG HEFFERNAN, only instead of a bus driving boob from the Bronx, he's a package delivery schlub from Queens. In the role of the smarter, wise-cracking spouse is LEAH REMINI, updated in this case to be as venomous as she is voluptuous. Astutely cast in the "wacky neighbor" role is the showbiz veteran's veteran JERRY STILLER, as Doug's cellar-dwelling father-in-law with a COSMO KRAMER-esque scheme for anybody who will lend an ear. Stiller's brilliantly wacked-out ARTHUR SPOONER is an even more twisted, indescribably annoying, (and even funnier) variation on his FRANK COSTANZA character from SEINFELD. JAMES lets the food/fat jokes fly with alarming regularity, CARRIE HEFFERNAN is the most despicable/lovable female creation since ELAINE BENNIS (Seinfeld again), and a book of Arthur's off the wall quotes would set the moral majority on its keister...with laughter, most likely. That's what great comedy is all about folks, and THE KING OF QUEENS is the best of its ilk since EVERYBODY LOVES RAYMOND...hell, maybe even since THE FLINTSTONES, no stranger to the influence of THE HONEYMOONERS itself.
---
"WANNA MESS AROUND?"

LEAVE IT TO BEAVER

Was there ever a warmer, funnier, more normal TV family than the CLEAVER clan on LEAVE IT TO BEAVER? Series creators/writers JOE CONNELY and BOB MOSHER offered viewers a quiet middle class suburban neighborhood complete with real trees and grass (not fake looking BRADY BUNCH backlot lawns) and a kid-friendly Mayberry-like downtown to go with realistic, fleshed out characters. In addition to HUGH BEAUMONT's understanding dad, who dispensed sound fatherly advice from his book-lined den and BARBARA BILLINGSLY's sweetly over-protective mom, other unforgettable cast members included WALLY's obnoxious best pal EDDIE HASKELL, who made sucking up an art form, dim-bulb bully LUMPY RUTHERFORD, and BEAVER's eternally famished cronie LARRY MONDELLO. Of course, the real stars of the show were sensible teenager WALLY and his inquisitive younger sibling "THE BEAVER", played to perfection by TONY DOW and JERRY MATHERS, who got into regular mischief (can anyone ever forget THE BEAV's accidental tumble into a giant billboard soup bowl?), looked out for each other and inevitably learned a vital lesson in every episode. The true meaning of "brotherhood" was never more apparent than on this nifty, nostalgic slice of pure Americana.
---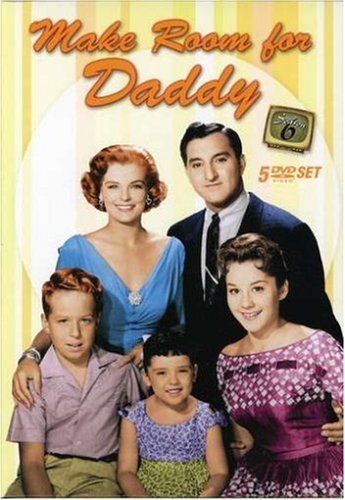 "MAKE ROOM FOR DANNY"

MAKE ROOM FOR DADDY

This funny family series centered on the hectic career and homelife of nightclub entertainer DANNY WILLIAMS, mixing well-loved comedy routines, THOMAS' trademark foreign dialects, songs at the piano, spit-takes, and a sentimental lesson learned in every episode. Produced by SHELDON LEONARD, it's best remembered for the later incarnation featuring MARJORIE LORD as THOMAS' glamorous (was there any other kind in pre-ROSEANNE television?) second wife, precocious ANGELA CARTWRIGHT as the cutest moppet to ever grace a sitcom, and RUSTY HAMER as his wise-cracking son. Big name show biz personalities dropped by, including BOB HOPE, LUCILLE BALL and JACK BENNY (playing The Devil himself!), while semi-regulars HANS CONREID's unforgettable UNCLE TONOOSE and BILL DANA's language-fracturing JOSE JIMINEZ added to the lighthearted mayhem. The program also introduced ANDY GRIFFITH's down home SHERIFF ANDY TAYLOR (who spun off into an even more popular show); suffice to say that THOMAS and LEONARD recognized talent when they saw it, folding the best of it into MAKE ROOM FOR DADDY.
---
"DOBIE GRAY MATTER"

THE MANY LOVES OF DOBIE GILLIS

Based on creator MAX SHULMAN's series of short stories, this cerebral, fast paced sitcom starred DWAYNE HICKMAN as high schooler DOBIE GILLIS. The amiable character regularly dispensed philosophy and plot lines before a statue of "The Thinker", while pining for fame, fortune and "the right girl". DOBIE's best buddy was work-shirking, clueless, jive talking beatnik MAYNARD G. KREBS, memorably portrayed by a goatee-wearing pre-"GILLIGAN" BOB DENVER; future film stars WARREN BEATTY and TUESDAY WELD also got their start here. Other unforgettable regulars included GILLIS' blustery, grocery store owning father ("I've gotta kill that boy!"), his sensible, doting mom ("...now Herbert!") and brainy plain-jane ZELDA, who only had eyes and a "wrinkled nose" for her man DOBIE. Boasting a jazzy score, colorful characters with funky names, and tight ensemble acting, DOBIE GILLIS was as hip and eclectic as teen sitcoms ever got in the early sixties.
---
"A RING TO IT"

THE MIGHTY HERCULES:

For cartoon fans of a certain age, TRANS LUX's cheaply animated made for TV series will be the HERCULES they most fondly remember, not DISNEY's sleek update or KEVIN SORBO's syndicated beefcake series. Based ever so loosely upon Greek mythology, this valiant son of ZEUS, aided by a power-bestowing ring, kept Mount Olympus safe from cackling evil wizard DAEDAULUS, scraggly sea witch WILHEMINE and the virtually impenetrable MASK OF VULCAN. Other regular characters included HERC's constant sidekick NEWTON, a well meaning but bungling centaur, beautiful damsel in distress HELENA and panpipe playing youngster TEWT. Each one of the 128 segments opened with JOHNNY (I CAN SEE CLEARLY NOW) NASH's majestic theme song and climaxed with HERCULES carting off the baddie while shouting his trademark "Olympia!". Colorful and kid friendly without being silly, THE MIGHTY HERCULES was a pleasant alternative to the glut of cookie cutter cape-and-mask super heroes of the sixties.
---
"SUPERGROUP"

THE MIGHTY HEROES

FRITZ THE CAT creator RALPH BAKSHI's super hero spoof for the long defunct TERRYTOONS studio (home of MIGHTY MOUSE, HECKYL & JECKYL and DEPUTY DAWG) has never seen an official DVD release, but is still fondly remembered by large pockets of the sixties Saturday-morning-cartoon-and-cereal-set. Character actor HERSCHEL BERNARDI (CHARLIE THE TUNA, JOLLY GREEN GIANT) provided the deep, gravelly voice of sensible team leader DIAPER MAN (a baby wielding a lethal milk bottle), aided by his less competent allies...good natured STRONG MAN, windy-voiced TORNADO MAN, stout hearted ROPE MAN and klutzy CUCKOO MAN. TERRYTOONS mainstay LIONEL WILSON provided most of the other characters' voices, including ghoulishly grinning, self descriptive villains such as THE SHOCKER, THE STRETCHER and THE FROG. Loaded with heroic (if repetitive) foul ups, elaborate cliffhanger traps ala ADAM WEST era BATMAN and a general sense of chaotic camaraderie, THE MIGHTY HEROES is one heck of a "lost classic" deserving of a much wider audience.
---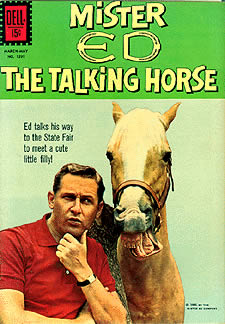 "HORSE SENSE"

MR. ED

Sixties television was crammed with shapely witches and genies, grotesque monsters and benevolent martians who dwelled in normal suburban neighborhoods, but no sitcom was more outlandish or hilarious than MR. ED, a mischievous palamino whose best pal was carefree architect WILBUR POST (ALAN YOUNG), the one human ED deemed worth chatting up. A direct descendant of the popular FRANCIS THE TALKING MULE flicks of the fifties, MR. ED also watched TV, used the phone, and did the Twist like anyone else (he even surfed in one memorable episode). A source of jealousy for POST's clueless wife CAROL and exasperation for money-hungry neighbor ROGER ADDISON, ED mainly created a commotion for WILBUR, whether demanding his right to vote, chasing racehorse phillies, or joining the beatnik crowd. None of this surreal premise would have worked without YOUNG's wholly believable characterization, cowboy star ROCKY LANE's creative voice work, and extraordinarily smart steed BAMBOO HARVESTER, who portrayed the show's irrepressible star. MR. ED's wild ride continued for six seasons, spinning off comic books, hand puppets, and board games; its immense popularity might be best explained by ED's retort to WILBUR initially coming to grips with a talking horse: "Don't try. It's bigger than both of us!"
---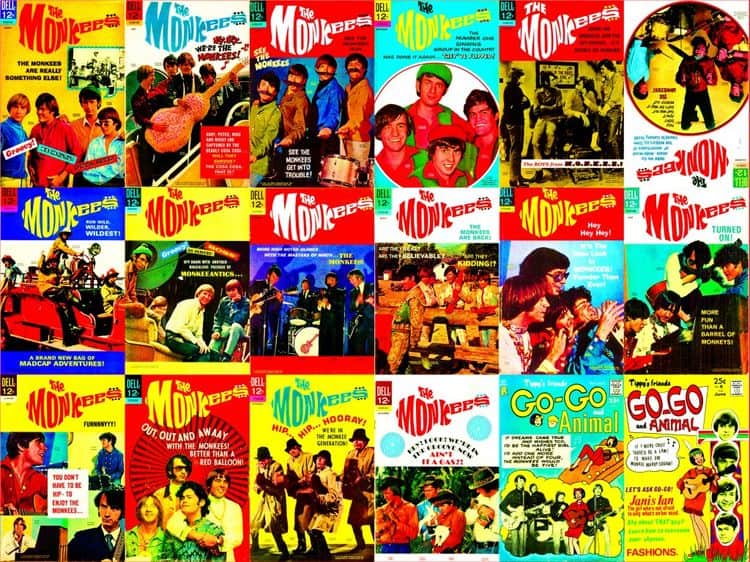 "BARRELFUL OF MONKEES"

THE MONKEES

Often dubbed the "PRE-FAB FOUR" for their intentional similarity to a certain mop-topped sensation from the other side of the pond, THE MONKEES was NBC's unparallelled, hip runaway hit of the late sixties. Intellectual leader MIKE, heartthrob DAVY, quiet soul PETER, and zany comic MICKEY channeled not only JOHN, PAUL, GEORGE, and RINGO, but also THE THREE STOOGES and THE MARX BROTHERS amid a colorful, fast paced environment of cartoon-like humor, trippy montages, and wacky guest stars from ROSE MARIE and LON CHANEY JR. to FRANK ZAPPA. The freewheeling showcase was also notable for early music videos of smash hits like LAST TRAIN TO CLARKSVILLE, PLEASANT VALLEY SUNDAY, and DAYDREAM BELIEVER...a clear predecessor for MTV, who paid back the favor 20 years later by running MONKEE-marathons, which made them superstars all over again. MIKE's southern boy charm, MICKEY's irrespressible slap-schtick, DAVY's affecting British accent, and PETER's innocent "out there" persona blended as seamlessly as their playful mix of bubblegum, country and rock and roll; for two gloriously fun-filled years, THE MONKEES proved a certified phenomenonon on the groove-tube, on the charts, and in our hearts.
---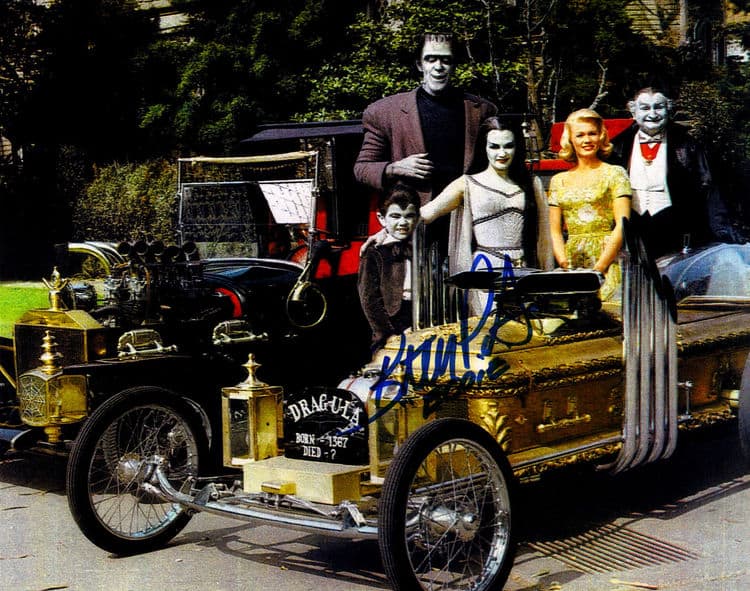 "MONSTER SMASH"

THE MUNSTERS

Created by the folks behind LEAVE IT TO BEAVER, THE MUNSTERS' dusty denizens of 1313 MOCKINGBIRD LANE included excitable flat-head of the household HERMAN (a passive FRANKENSTEIN's monster played to bumbling perfection by FRED GWYNNE), B-movie siren YVONNE DECARLO as his no nonsense VAMPIRA-like wife LILY and AL LEWIS, one of GWYNNE's CAR 54 WHERE ARE YOU co-stars, as her DRACULA dad GRANDPA, who was Transylvanian by way of the Borscht Belt. Rounding out the creepy cast was young Werewolf son EDDIE, "homely" blonde niece MARILYN (portrayed by both BEVERLY OWENS and PAT PRIEST in a barely noticeable switcheroo) and SPOT, a manhole cover-munching pet dragon. Wonderfully silly plots and "dead"-panned puns were all part of THE MUNSTERS' makeup, as guest stars including FRANK GORSHIN, PAUL LYNDE and rock group THE STANDELLS encountered the family, who naturally considered themselves "normal". Less sophisticated or eccentric than THE ADDAMS FAMILY (both creature-feature series ran concurrently for two seasons), THE MUNSTERS provided slabs of freaky fun...you could die laughing.
---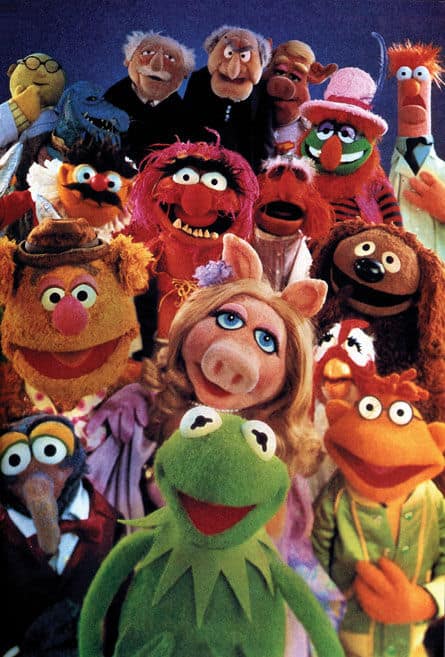 "OUT OF HAND"

THE MUPPET SHOW

After a long tenure as one of SESAME STREET's most charming characters, everyman KERMIT THE FROG was promoted to host THE MUPPET SHOW, a slightly more adult oriented, wildly entertaining "behind the scenes" variety series populated by quirky, colorful new characters. Headed by creator JIM HENSON and FRANK OZ, the enormous cast included heckling curmudgeons STATLER & WALDORF, hip house band DR. TEETH & THE ELECTRIC MAYHEM, bad one liner king FOZZIE BEAR, piano pounder ROWLF THE DOG (a holdover from the old JIMMY DEAN show), and KERMIT's main squeeze, irrespressible diva and scene hogger MISS PIGGY. Purposely stale puns, madcap musical productions, and skewed skits like PIGS IN SPACE and VETERINARIAN'S HOSPITAL were trotted out weekly, along with a who's who of big name singers, comedians, broadway stars, film actors, and dancers. STEVE MARTIN, ELTON JOHN, CAROL BURNETT, ZERO MOSTEL, LIBERACE, RITA MORENO, VINCENT PRICE, JOHN CLEESE, ALICE COOPER, and PETER SELLERS were just a few of the over 100 celebrity guests who lined up to take their knocks and swap jokes. For five frantic, flambouyant, fun-filled seasons, no man, woman, or child was safe from MUPPET mayhem...and who wanted to be?
---
"STAR POWER"

MY FAVORITE MARTIAN

As the predecessor to "alien invasion" programs like MORK & MINDY and ALF, MY FAVORITE MARTIAN concerned a highly intelligent extraterrestrial underplayed to perfection by RAY WALSTON, whose crashed spaceship was discovered by newspaper reporter TIM O'HARA (the always reliable BILL BIXBY). Passed off as "Uncle Martin" after taking up residency in O'HARA's apartment over a garage which housed the damaged rocket, Martin swore Tim to secrecy, hipping his alternately fascinated/exasperated student to advanced Martian customs. Martin's powers included mind reading, critter communication, levitating objects (always accompanied by eerie Theremin sound effects) and materializing/dematerializing by utlizing a small antennae hidden in the back of his head. Blonde, bubbly Pamela Britton as their delightfully scatter-brained, nosey landlady and the usual array of character actors from Vitto Scotti to Madge Blake helped propel this cornucopia of sci-fi hijinks for three seasons. Although spun off into a long forgotten Saturday morning cartoon and a best forgotten DISNEY reboot, nothing could compare to the original...for smart, well crafted comedy, MY FAVORITE MARTIAN was light years ahead of its time.
---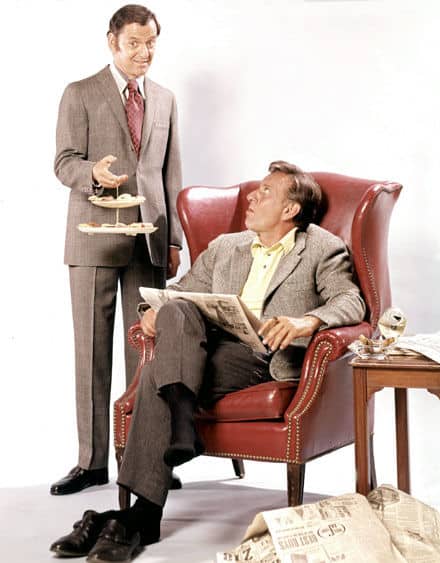 "NO USE CRYING OVER SPILLED BEER"

THE ODD COUPLE

NEIL SIMON's classic play, movie, and TV series THE ODD COUPLE mined a rich mismatched roommates theme that's been resurrected countless times since, from LAVERNE & SHIRLEY to TWO & A HALF MEN. The only major film spinoff (other than M*A*S*H) to succeed on the small screen, JACK KLUGMAN and TONY RANDALL expertly inherited the roles of hard livin' slob sportswriter OSCAR MADISON and persnickity neat-nick photographer FELIX UNGER from the incomparable WALTER MATTHAU and JACK LEMMON...divorced men coping with each other's idiosyncrasies in a Big Apple apartment. Former joke writer GARRY MARSHALL executive produced, bringing in his then unknown sister PENNY as OSCAR's nasal-voiced secretary MYRNA TURNER, while AL MOLINARO's bumbling flatfoot MURRAY also figured prominently in the hijinks (both would turn up in future MARSHALL-produced sitcoms LAVERNE & SHIRLEY and HAPPY DAYS). Hilarity ensued in a weekly war of OSCAR's stogies, gastrinomic indecencies, and poker games vs. FELIX's fastidious housekeeping, champagne taste, and multitude of allergies; often imitated but never duplicated, THE ODD COUPLE cleaned up for five funny seasons.
---
"BIRDS OF A FEATHER"

THE PARTRIDGE FAMILY-THE COMPLETE SERIES

Ultimately hipper than THE BRADY BUNCH, the kid-com it followed in the late sixties, THE PARTRIDGE FAMILY was based on real life hit making clan THE COWSILLS (INDIAN LAKE, HAIR), starring shag-a-delic heartthrob DAVID CASSIDY as KEITH PARTRIDGE and his real life step mom, Oscar winner SHIRLEY JONES. Managed by the easily exasperated RUEBEN KINKAID (DAVE MADDEN)...at least when DANNY BONADUCE's "mental midget" character DANNY wasn't usurping his authority...the cast also included SUSAN DEY as elder sister (and frequent CASSIDY sparring partner) LAURIE and low key moppets CHRIS and TRACEY, who rarely figured into the plot lines. Shuttling to supper club gigs in a multi-colored school bus, THE PARTRIDGE FAMILY dispensed their innocuous brand of bubble-pop...notably real life chart topper I THINK I LOVE YOU and a series of best selling albums (on which only CASSIDY and JONES performed)...to millions of young fans jonesing for a sugar fix ever since THE MONKEES' unceremonious cancellation a couple of years earlier.
---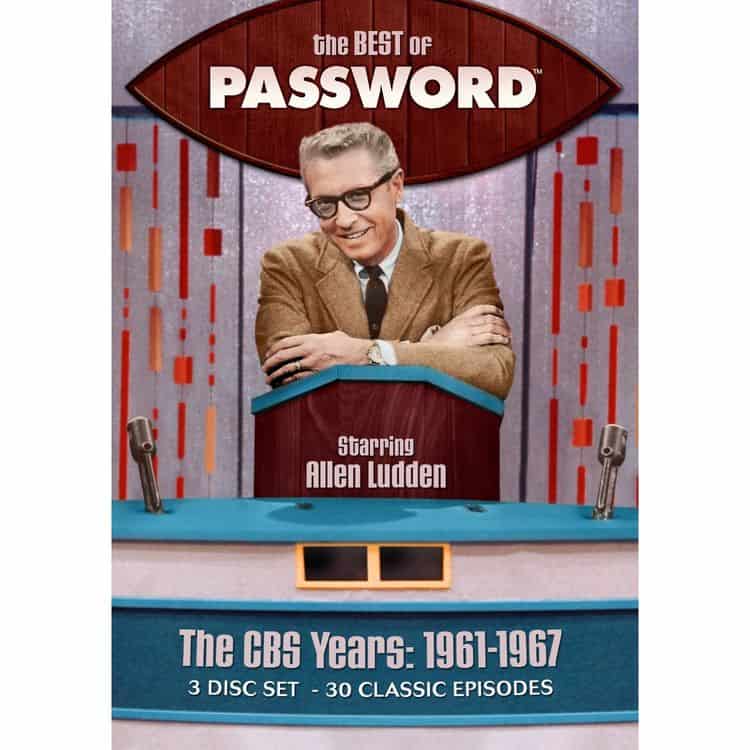 "WORD UP!"

PASSWORD

Few game shows trotted out more big name TV stars, singers and bona fide film legends in the name of intellectual fun than PASSWORD. The cerebral, fast paced series courted one word clues in order to deduce a secret term whispered by an off screen announcer; home particpation was not only encouraged, it was downright addictive. ALLEN LUDDEN, certainly one of the most congenial and best liked of all game show hosts, always seemed to be in total control, whether administering the rules, plugging his special guests' latest projects, or commenting on the often hilarious clues and answers inherent to the program. Pairing up celebrities with regular folk, the series attracted the likes of JACK BENNY, LUCILLE BALL, JERRY LEWIS, SAMMY DAVIS JR., CAROL BURNETTE, GENE KELLY, DICK VAN DYKE, JOAN CRAWFORD, PAUL ANKA, JIMMY STEWART, and LUDDEN's perky spouse BETTY WHITE, who all appear in this 32 episode edition. The emphasis was on teamwork and crafty deduction rather than gaudy prizes and shrieking contestants, making PASSWORD the one game show everyone admitted tuning into and no celebrity was ever embarrassed to be seen on.
---
"TOOT TOOT TOOTSIE"

PETTICOAT JUNCTION

Creator PAUL HENNING's laid back rural sitcom took place in the whistle stop town of HOOTERVILLE, home of the SHADY REST, a comfy, down home hotel accessible only by way of an archaic locomotive affectionately known as the Cannonball. Run by no nonsense widow KATE BRADLEY (BEA "BETTY RUBBLE" BENEDERET) and slow movin', fast talkin' UNCLE JOE (played to perfection by character actor EDGAR BUCHANAN), this precursor to today's "bed and breakfast" often housed more employees than visitors. Much of the show's gentle humor derived from UNCLE JOE's lame brained get rich quick schemes, the family's LASSIE smart pooch and KATE's three nearly grown daughters, blonde BILLIE JO (portrayed by three actresses, including two future HEE HAW HONEYS and MEREDITH MACCRAE), brunette BOBBIE JO (PAT WOODELL, then LORI SAUNDERS) and redheaded BETTY JO (HENNING's daughter LINDA KAYE). Neither as over the top as THE BEVERLY HILLBILLIES nor as surreal as GREEN ACRES, HENNING's other sixties smashes, PETTICOAT JUNCTION proved the perfect place to stop and put your feet up for seven sublime seasons.
---
"THINK PINK!"

THE PINK PANTHER CLASSIC CARTOON COLLECTION

DEPATIE-FRELENG's most popular creation, the long running PINK PANTHER cartoon series evolved from their inventive title sequences in a string of classic PETER SELLERS flicks, with HENRY MANCINI's irresistible jazzy theme blessedly intact. A well meaning but trouble prone cool cat, the mute main character (more recently known for hawking pink fiberglass insulation) engaged in simple, semi-surreal Chaplin-esque adventures, with ideas occasionally recycled from WARNER BROTHERS director FRELENG's previous TWEETY & SYLVESTER and YOSEMITE SAM toons. Sidekick episodes (unfortunately not included in this otherwise stellar set) included SELLERS' bumbling gumshoe CLOSEAU resurrected as THE INSPECTOR (voice of PAT HARRINGTON) and THE ANT & THE AARDVARK, a DEAN MARTIN meets JACKIE MASON pair of ROAD RUNNER/WILE E. COYOTE type adversaries (voiced by JOHN BYNER). Colorful, stylishly animated and cleverly hip, THE PINK PANTHER was a rose colored delight that stood out among the cookie cutter HANNA-BARBERA and FILMATION productions that dominated Saturday morning TV in the sixties and seventies.
---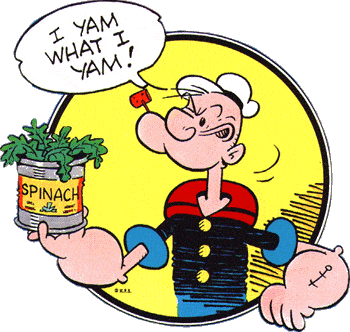 "POP STAR"

POPEYE THE SAILOR

Before the world had a MAN OF STEEL, the first REAL super hero was a squint-eyed, tattooed, pipe-wielding pipsqueak who led with his bulbous chin and whose strongest high came courtesy of a certain leafy green plant that CHEECH & CHONG never even considered. Part of POPEYE's good-natured charm came via trademark exclamations of "I yam what I yam!" and "Blow me down!", along with the hilarious, though barely discernable asides he mumbled (often with his mouth closed). He doted on only OLIVE OYL, his spaghetti-limbed, rusty nail-voiced "goilfriend"...except when burly nemesis BLUTO was around, which was all the time. Perpetual burger moocher J. WELLINGTON WIMPY, mischievous baby SWEE' PEA, and cantankerous senior citizen POOPDECK PAPPY rounded out the quirky cast from creator ELZIE SEGAR's original comic strip...numerous companies produced hundreds of POPEYE shorts over a fifty year span, but none topped original animators MAX and DAVE FLEISHER's innovative, beautifully rendered, whimsical black & white cartoons of the 30s. POPEYE put the "pop" in pop culture.
---
"THE REAL DEAL"

THE REAL MCCOYS-SEASON ONE:

Spurring a "rural sitcom" avalanche that included PAUL HENNINGS' hat trick of hick hits THE BEVERLY HILLBILLIES, PETTICOAT JUNCTION & GREEN ACRES, THE REAL MMCCOYS mined a gentle backwoods humor first seen in the popular MA & PA KETTLE movies of the fifties. The home spun series was a showcase for three time Academy award winning actor WALTER BRENNAN, who portrayed cantankerous, meddling dirt farmer GRANDPA AMOS MCCOY (who out limped even GUNSMOKE's CHESTER) to the absolute hilt, peppering his high pitched exclamations with plenty of "Goll-durn-it!'s" and "Con-sarn-it!'s". The likeable cast also featured RICHARD CRENNA (fresh off a stint as nasally high school student WALTER DENTON on OUR MISS BROOKS) as naive grandson LUKE, his amiable "Sugar-babe" wife KATE (KATHLEEN NOLAN), Mexican farm hand PEPINO (TONY MARTINEZ), who was treated as one of the family and LUKE's younger siblings HASSIE and LITTLE LUKE. One of many quality sitcoms produced by DANNY THOMAS, sharp writing, fine ensemble acting and GRANDPA's high falutin' hijinx made THE REAL MCCOYS the perfect family to drop in on for six highly rated seasons.
---
THIS IS A MAN'S WORLD

THE COMPLETE RED GREEN SHOW:

From somewhere within the vast wilderness of Canada came THE RED GREEN SHOW, a no budget "do it yourself" sitcom starring STEVE SMITH as the genial, advice-dispensing head of POSSUM LODGE, a messy man-cave haven for eccentric outcasts...basically the same people that populate your own workplace, neighborhood and family. RED's clueless cronies included his uber-geek nephew HAROLD (PATRICK MCKENNA, who made BARNEY FIFE look like JOHN WAYNE), bow tied septic sucker WINSTON ROTHSCHILD III, wild haired store proprietor DALTON HUMPHREY, petty thief MIKE HAMAR and lonesome RANGER GORD among other assorted kooks. Regular off kilter features such as HANDYMAN CORNER (demonstrating creative uses for old car parts and duct tape), WORD GAME (think the TEN CENT PYRAMID), and ADVENTURES WITH BILL (black & white home movies of slapstick-filled mayhem) kept things rolling along at a hilariously frantic pace. In a gloriously convoluted "men will be men" world of rusted out grills, tangled fishing tackle, misused tools and abandoned vehicles...THE RED GREEN SHOW was a "no-brainer" for fifteen testosterone fueled seasons.
---
"TUNE IN NEXT TIME..."

ROCKY & BULLWINKLE

No cartoon series ever combined crude artwork, hip satirical references and offbeat voice talent quite as effectively as these daring denizens of Frostbite Falls, Minnesota. JAY WARD's irreverent, pun-riddled creation unspooled in cliffhanger episodes urgently narrated by WILLIAM CONRAD, starring sensible ROCKET J. SQUIRREL (JUNE FORAY) and his dimwitted bosom buddy BULLWINKLE J. MOOSE (voiced by head writer BILL SCOTT), who constantly thwarted Potsylvanian no-good-niks BORIS BADENOV (PAUL FREES) and NATASHA FATALE (FORAY again). Hapless Mountie DUDLEY DO-RIGHT, unflappable time traveling canine MR. PEABODY, the moral dispensing AESOP AND SON, and FRACTURED FAIRY TALES proved all too rare examples of supporting players who were as entertaining as the stars. Interspersed with the silly short skits BULWINKLE'S CORNER and MR. KNOW IT ALL, ROCKY & BULLWINKLE stood head and antlers above similarly animated but far less clever fare like UNDERDOG and TENNESSEE TUXEDO...earning a well deserved place in the hearts of kids hooked on its colorful, wacky characters and the heads of adults drawn to its uncompromising, cerebral humor.
---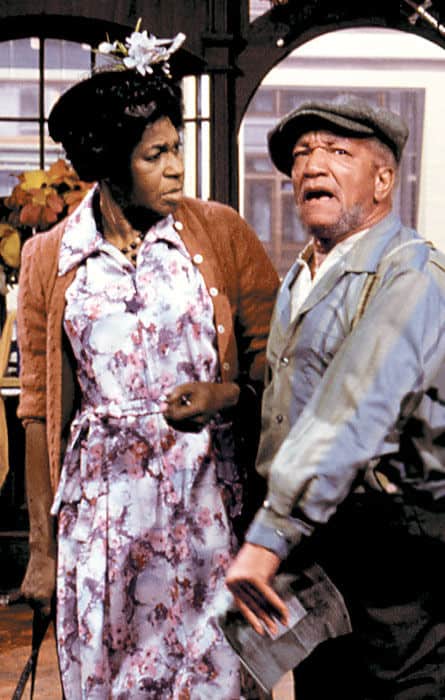 "NOTHING BUT JUNK ON TV"

SANFORD & SON

Cantankerous "salvage entrepreneur" FRED SANFORD was the TV role that raunchy night club/party album comic REDD FOXX was born to play. The scheming, stubborn, but ultimately lovable old man had a fondness for creature-feature flicks, ripple wine, and fake heart attacks as he regularly locked horns with his hard working partner and son LAMONT (DEMOND WILSON), whom he referred to as "Big Dummy". Their modest Watts home, a crammed-to-the-gills collage decorated in "early junk" hosted a dizzying array of colorful characters including FRED's ever present cronies GRADY and BUBBA and bible-toting, purse swinging AUNT ("Watch it, Sucka!") ESTHER, who regularly traded barbed-wire insults with her argument-baiting brother-n-law (FRED didn't play favorites; he insulted EVERYBODY). QUINCY JONES provided the funky opening theme music for this NORMAN LEAR-produced juggernaut second in popularity only to ALL IN THE FAMILY. Somebody once proclaimed, "There's nothing but junk on TV"...this critic was obviously hooked on a little diamond in the rough called SANFORD & SON for six side-splitting seasons.
---
"TOON IN NEXT WEEK..."

SATURDAY MORNING CARTOONS/1960S VOL. 1

Back in the three channel, pre-VCR, pre-info-mercial world of kiddie programming, an uninterrupted six hour block of toons on Saturday morning almost made parents and teachers bearable for the rest of the week. The debut volume of SATURDAY MORNING CARTOONS concentrates on the sixties hey day of limited animation kings HANNA BARBERA, who specialized in anthropomorphic critters and humorous humans like THE FLINTSTONES and THE JETSONS, families at opposite ends of the past/future spectrum. They also pumped out the BILKO-channeling conniver TOP CAT and colorful, fun packed series headlined by wild west zero QUICK DRAW MCGRAW, JAMES BOND spoof SECRET SQUIRREL and pet store problem child MAGILLA GORILLA, whose co stars SNOOPER & BLABBER, SQUIDLEY DIDDLEY and PUNKIN PUSS are less likely to ring a bell. Sleek sci fi do gooders SPACE GHOST, FRANKENSTEIN JR. (an Americanized GIGANTOR) and THE IMPOSSIBLES (who doubled as a rock group) represented HB's more serious side, tapping into the super hero craze of the era. WARNER BROTHERS, who now control the HANNA BARBERA catalogue, offer up their own looney luminaries from THE PORKY PIG SHOW, former theatrical cartoons that are easily the wildest in the bunch. So tune in, turn on and don't spit out any of your CAP'N CRUNCH!
---
"TOON UP"

SATURDAY MORNING CARTOONS-1960S VOL. 2

You won't see any TERRY TOONS (MIGHTY MOUSE), UPA (MR. MAGOO) or WALTER LANTZ (WOODY WOODPECKER) productions in this collection, but no matter...HANNA-BARBERA (now distributed by WARNER BROTHERS) virtually OWNED Saturday mornings throughout the sixties. The high budget LOONEY TUNES and TOM & JERRY movie shorts in this package may make HB's limited animation TV stars look poor step cousins, but the best of 'em...space age clan THE JETSONS and CLEM KADIDDLEHOPPER-channeling cowpoke QUICK DRAW MCGRAW...make up in voice characterizations and clever story telling what they lack in fluid movement. HB voiceover kingpin DAWS BUTLER is oddly absent from the later MAGILLA GORILLA and ATOM ANT programs, which rely on TV actors ALLAN (SAM THE BUTCHER) MELVIN, HOWARD (ERNEST T. BASS) MORRIS and tireless legend MEL BLANC...while decent, these garden-variety shows can't match the standards set by YOGI, HUCK and QUICK DRAW. Nonetheless, bona fide obscurities PUNKIN PUSS & MUSH MOUSE, YIPPEE YAPPEE & YAHOOEY and PRECIOUS PUP are fun to revisit after all these decades...all that's really missing here are the cereal and toy ads.
---
"A STAND UP KIND OF GUY"

SEINFELD

This New York based phenomenon was based loosely on the personal life of observational stand up comic JERRY SEINFELD, who spent his down time obsessively dissecting the excruciating minutiae of every day life with his wacky, narcissistic friends. In addition to nit picky JERRY, the perfect cast included his superficial ex ELAINE (JULIA-LOUISE DREYFUSS), schlubby loser GEORGE COSTANZA (the outstanding JASON ALEXANDER) and klutzy ED NORTON-like neighbor COSMO KRAMER (MICHAEL RICHARDS). Unlike most series, secondary characters were also memorable and fleshed out, making mail carrying creep NEWMAN, self important J. PETERMAN and GEORGE's loud, excitable father FRANK (JERRY STILLER) were as much fun as the main ensemble. Despite being billed as a "show about nothing", the hip, convoluted plots dealt with soured relationships, quirky habits and bizarre coincidences, injecting catch phrases like "Sponge worthy", Yada Yada Yada" and "Master of my domain" into the vernacular...which helped make SEINFELD the most wildly popular, innovative "must see" sitcom fix of the nineties.
---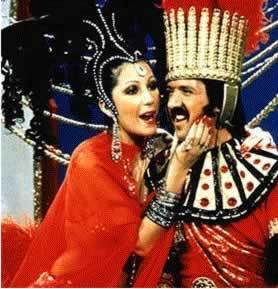 "THE LONG & THE SHORT OF IT"

SONNY & CHER

Back in the good ol' 70s, when the beloved TV variety show was still king, only one program offered any serious competition to high water mark music/comedy showcase THE CAROL BURNETT SHOW. That was the two and only SONNY & CHER, a hit making couple who patterned their trademark put down schtick after loud, stumpy Las Vegas bandleader LOUIS PRIMA & his cooly detached chanteuse wife KEELY SMITH. THE SONNY & CHER COMEDY HOUR was a zany, colorful mind-meld of slapstick skits, bad puns, and sutlry, BOB MACKIE-inspired fashion-plate perfomances by CHER of chart-toppin' sagas like GYPSIES, TRAMPS & THIEVES, HALF BREED, and DARK LADY. Regular funny features included VAMP, which spotlighted infamous women throughout history, SONNY'S PIZZARIA, and CHER as tacky, gum-chomping gossip Laverne, the Leader of the Laundromat. Guest stars ranging from DON KNOTTS and RUTH BUZZI to RONALD REAGON and the JACKSON 5 were supported by a large cast of regular zanies, notably TED ZIEGLER, BILLY VAN, and the perfectly lovely TERI GARR. The fun was infectious and the mega-watt charisma of the show's two stars undeniable; SONNY & CHER was a kitschy, dippy time capsule of much that was worth tuning into during the "me decade".
---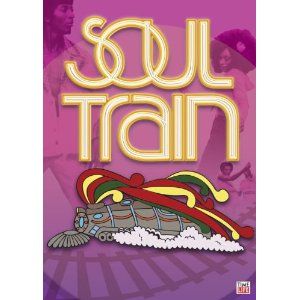 "HIP CHECK"

SOUL TRAIN

Billed as "the hippest trip in America", SOUL TRAIN was urban society's answer to AMERICAN BANDSTAND, a wall-to-wall assault of the funkiest fashions, fiercest 'fros, and fanciest dance moves ever busted out on the boob-tube. The weekly groove-a-thon (sponsered by ULTRA SHEEN and AFRO SHEEN products) was presided over by the king-daddy of suave sophistication and unadulterated cool, creator/host/entrepreneur DON CORNELIUS, whose dulcet tones welcomed seemingly every 70s RNB chart mover from EARTH, WIND & FIRE and JAMES BROWN to THE ISLEY BROTHERS and ARETHA FRANKLIN, with token white icons such as ELTON JOHN and DAVID BOWIE occasionally joining the party. Regular features included the SOUL TRAIN SCRAMBLE BOARD, a word jumble of black icons, and a loose-limbed line dance showcasing the acrobatic, aerodynamic SOUL TRAIN dancers demonstrating steps like THE ROBOT, THE SLIDE, and THE FUNKY CHICKEN...future celebrities ROSIE PEREZ and FRED "RERUN" BERRY sprang from their ranks. The longest running syndicated series ever, SOUL TRAIN was a euphoric, kalaidoscopic ride no self-respecting music lover could afford to miss.
---
"THE FLIGHTY HEROES"

THE SUPER 6: DEPATIE/FRELING's long lost Saturday morning cartoon SUPER 6 spotlighted an agency of colorful heroes for hire, namely SUPER BWOING (a klutz on a flying guitar who talked in JIMMY STEWART's uncertain tones of ), SUPER SCUBA (think AQUAMAN), MAGNETO MAN (he sported a CARY GRANT voice), ELEVATOR MAN (who could shrink or grow to mammoth proportions), GRANITE MAN (a statue brought to life by his pigeon sidekick) and CAPTAIN ZAMMO (a flamboyant loudmouth). Boasting a hip "instant ear worm" GARY LEWIS & THE PLAYBOYS theme song, each show featured a SUPER BWOING toon, a segment spotlighting one of his lantern jawed compadres and a BROTHERS MATZORILEY episode (average joe's, except for their three bickering heads). The story lines varied in quality and the cookie cutter villains, hardly in a league with THE DICK TRACY SHOW's FLAT TOP and PRUNE FACE, were given needed punch by voice vets PAUL FREES and DAWS BUTLER. Like TERRYTOONS' similar THE MIGHTY HEROES and BOB KANE's courageous BATFINK, THE SUPER 6 may be "super-obscure" now, but maybe...just maybe...that's what made them so special.
---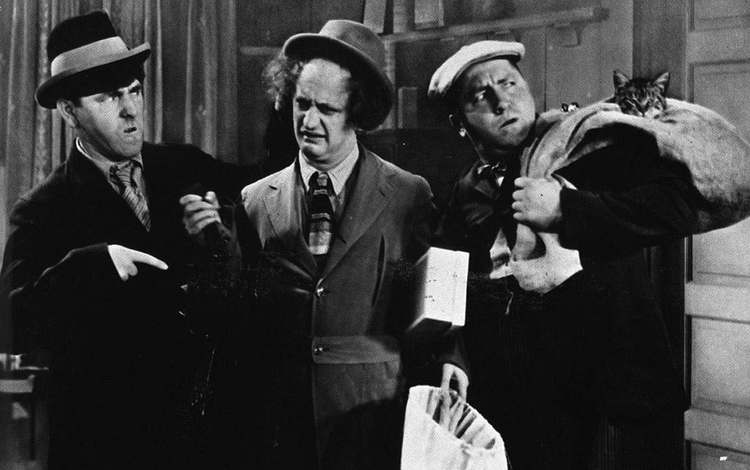 "TRIPLE PLAY"

THE THREE STOOGES

Short on physical stature but long on face slaps, cream pies, seltzer bottles, and really bad haircuts, THE THREE STOOGES are universally held up as the longest lived and most recognizable comedy team of all time...except by those who HATE them. Each new generation of kids and male adults who never grew up readily acknowledge and adore the twisted trio; unfortunately, the same can't be said for the equally talented and hilarious LAUREL & HARDY, MARX BROTHERS, or ABBOTT & COSTELLO. Any almalgamated moron will tell you the "real" THREE STOOGES were MOE (the bossy one), LARRY (the under-used one), and CURLY (the funniest one)...with a nod to CURLY's successor SHEMP. Paling in comparison were the two average JOE's who followed, namely whiney JOE BESSER, recruited to finish out the trio's film shorts contract, and rotund CURLY JOE, of their later full length motion pictures and el cheapo cartoon series. Anti-authority plots, goofy sound effects, oft-recycled jokes, and quotable catch phrases hit their mark with millions of fans, making THE STOOGES the most famous n'yuk-leheads in pop cuture history. Why, COITENLY!...
---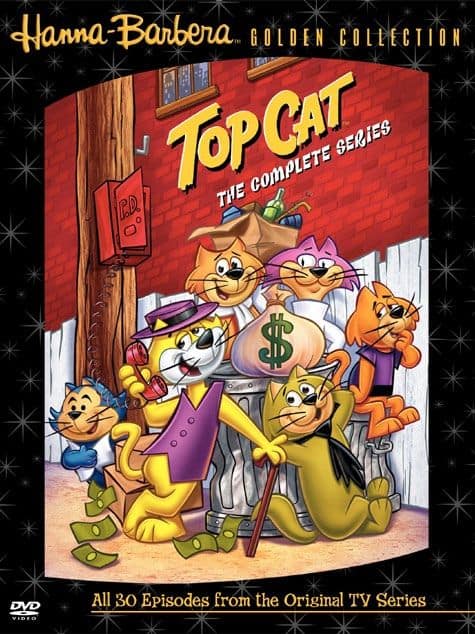 "KITTEN WITH A WIT"

TOP CAT

HANNA-BARBERA's second prime time cartoon (THE FLINTSTONES came first) was a thinly veiled version of PHIL SILVERS' classic BILKO; instead of a Kansas Army base, the action took place in New York City's Hogie Alley, where smooth-talking hustler TOP CAT devised rich quick schemes from the comfort of his trash can. Voiced by character actor ARNOLD STANG, who normally excelled in nerdy roles, "T. C." was the nemesis of beat cop OFFICER DIBBLE, whose police call box he regularly abused in conjunction with his shady shenanigans. TOP CAT's loyal feline gang included hip-talking SPOOK, ladies' man FANCY-FANCY, sensible CHOO CHOO, and the hopelessly naive BRAIN, a colorful collection of cronies whose YOU'LL NEVER GET RICH connection was solidified by MAURICE "PRIVATE DOBERMAN" GOSFIELD's personification of schlubby BENNY THE BALL. Unlike most HB productions, the emphasis was on snappy dialogue over broad slapstick...it may have only lasted a single season (like the original version of THE JETSONS), but tuning into TOP CAT each week was just as much fun as live action BILKO knock-offs such as MCHALE'S NAVY and F-TROOP.
---
"THE DOG STAR"

UNDERDOG-THE COMPLETE SERIES:

The most beloved canine do-gooder of them all, Saturday morning staple UNDERDOG was the rhyme spouting alter ego of unassuming SHOESHINE BOY (like CLARK KENT, only a pair of spectacles hid his true identity), perfectly voiced by milquetoast character actor WALLY COX. When spurred into action by the cries of TV reporter/perpetual damsel in distress SWEET POLLY PUREBREAD, UNDERDOG battled his arch foes, which included crackpot scientist SIMON BAR SINISTER and pinstriped canis lupus gangster RIFF RAFF, not to mention a motley parade of one shot villains like BATTY MAN, THE ELECTRIC EEL and assorted aliens. Distributed by TOTAL TELEVISON PRODUCTIONS, the show featured a snappy theme song, crude, simple animation not unlike ROCKY & BULLWINKLE (though it lacked that show's cerebral pun-riddeled wit) and short cliffhanger episodes moved along by an earnest off screen narrator. Indian mischief makers GO GO GOPHERS and tall tale adventurer COMMANDER MCBRAGG were among the other "Short Subjects" on hand, making UNDERDOG one of Saturday morning's most heroic efforts throughout the sixties and forever after in syndication.
---
"THE STRAIGHT AND ARROW"

WHEN THINGS WERE ROTTEN:

Somewhere in between creating the ultimate TV spy spoof GET SMART and the so-so flick ROBIN HOOD: MEN IN TIGHTS, uber-talent MEL BROOKS dropped this short-lived cornucopia of sitcom slap-schtick. The likable DICK GAUTIER (best remembered as C.O.N.T.R.O.L.'s deadpan HYMIE THE ROBOT) starred as the cocky hero of SHERWOOD FOREST, flanked by HEE HAW Honey MISTY ROWE as main squeeze MAID MARION, future EIGHT IS ENOUGH matriarch DICK VAN PATTON's gluttonous FRIAR TUCK and BERNIE KOPELL (K.A.O.S. super-crook SIEGFRIED) as quip-prone ALAN-A-DALE. A jaunty theme song, punishing puns and outrageous sight gags populated this fast paced parody, which compared favorably to BROOKS' cinematic triumphs BLAZING SADDLES and YOUNG FRANKENSTEIN...albeit in a lower budget "small screen" sort of way. Unabashedly silly, WHEN THINGS WERE ROTTEN proved too far ahead of its time to score a bull's-eye with television audiences...but not for lack of creative writing, a game cast and outbursts of inspired lunacy that ERROL FLYNN could have never imagined.
---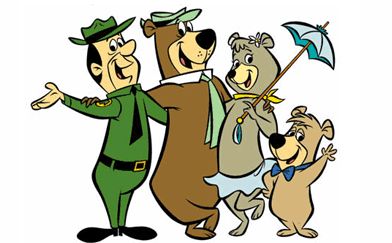 "GRIN & BEAR IT!"

THE YOGI BEAR SHOW

Perhaps HANNA-BARBERA's most beloved anthropomorphic character, YOGI BEAR was originally seen in slightly cruder form on THE HUCKLEBERRY HOUND SHOW, where he became that series' breakout star. The ED NORTON-channeling picnic basket filcher was accompanied by his ever-cautious companion BOO BOO, a flesh 'n blood conscience that YOGI cheerfully ignored at every turn. Armed with sly asides such as "Smarter than the average bear", the brazen bruin mooched his way into viewer's hearts...even his incredulous JELLYSTONE PARK nemesis RANGER SMITH stopped to marvel on occasion. Also appearing on the series was SNAGGLEPUSS, an irrepressible pink mountain lion who spouted Shakespeare in the pompous manner of BERT LAHR, and YAKKY DOODLE, a diminutive, always-in-peril duck who had previously done memorable one-shots on TOM & JERRY, PIXIE & DIXIE, and HUCK HOUND-era YOGI shorts. In spite of HANNA-BARBERA's fun but limited animation technique, THE YOGI BEAR SHOW boasted the charismatic voice personalities of DAWS BUTLER (the RICH LITTLE of cartoons) and DON MESSICK, plus writers from the LOONEY TUNES' golden age, making it "must-see" TV on a par with the best sixties sitcoms.
---


THE BEST TV THEME SONGS OF ALL TIME
(in alphabetical order):

THE ADDAMS FAMILY
ALL IN THE FAMILY
THE ANDY GRIFFITH SHOW
BARNABY JONES
BARNEY MILLER
BATMAN
THE BEVERLY HILLBILLIES
BONANZA
THE BRADY BUNCH
THE BUGS BUNNY SHOW
CHEERS
CHICO & THE MAN
DAKTARI
DANIEL BOONE
THE DICK VAN DYKE SHOW
DRAGNET
F TROOP
THE FLINTSTONES
FRIENDS
GET SMART
GILLIGAN'S ISLAND
GOMER PYLE, USMC
GREEN ACRES
HAWAII FIVE-O
HAVE GUN, WILL TRAVEL
HEE HAW
I LOVE LUCY
THE JACK BENNY SHOW
THE JEFFERSONS
THE JETSONS
THE KING OF QUEENS
M*A*S*H
MARRIED WITH CHILDREN
THE MIGHTY HEROES
MISSION: IMPOSSIBLE
MISTER ED
THE MUNSTERS
MY THREE SONS
THE ODD COUPLE
THE PARTRIDGE FAMILY
PERRY MASON
PETTICOAT JUNCTION
THE ROCKFORD FILES
ROGER RAMJET
SANFORD & SON
THE SOPRANOS
STAR TREK
SUPER SIX
THE THREE STOOGES
THE WILD WILD WEST
WELCOME BACK, KOTTER

---


THE TOP TEN TWISTED TV TRIBUTE TUNES

1) WHATEVER HAPPENED TO EDDIE?-EDDIE & THE MONSTERS...Grwon child actor BUTCH PATRICK, aka EDDIE MUNSTER, released this cheezy remake of the original MUNSTERS theme, with lyrics questioning his whereabouts...he's still waiting for an answer.

2) I WANT JOHNNY'S JOB-RAY SAWYER...One of DR. HOOK & THE MEDICINE SHOW's two lead singers (he sported an eyepatch) put this single out when talk show king JOHNNY CARSON first made noises about leaving THE TONIGHT SHOW in the early 80s...JAY who???

3) THE CURLY SHUFFLE-JUMP IN THE SADDLE BAND...A sprited tribute to comedy's most often quoted trio of knuckleheads. Chock full of Stoogey sound effects and "Curly-isms" mimicked with surprising accuracy.

4) FLINTSTONES THEME-BRUCE SPRINGSTONE...Cartoondom's most singable ditty, warbled in the gravelly style of THE BOSS. Yabba-Dabba-doo-wop?

5) STAIRWAY TO GILLIGAN'S ISLAND-LITTLE ROGER & THE GOOSSEBUMPS...The legendary LED ZEP epic fited with storyline lyrics from the all time "love-it-or-hate-it series...even THE PROFESSOR thought it couldn't be done!

6) STAR TREKKIN-THE FIRM...Not the short-lived PAUL ROGERS/JIMMY PAGE supergroup, but a completely different FIRM. This silly, satirical saga sets "Space...the final frontier" on its pointed ear.

7) WHO SHOT J.R.?-GARY BURBANK & BAND MCNALLY...Hilarious bullseye aimed at night time super-soap DALLAS and TV's biggest ever cliffhanger.

8) RICKY-WEIRD AL YANKOVICH...His tantilyzin' take on I LOVE LUCY, belted to the tune of one hit wonder TONI BASIL's MICKEY, woulda made the real LUCY go, "WAHHHHHH!"

9) HILLBILLY RAP-NEAL MCCOY...Country hunk's bizarre, highly dancable mash-up of THE BEVERLY HILLBILLIES and HARRY BELEFONTE's DAY-O...somehow, it flows like a bubblin' crude.

10) GENERAL HOSPI-TALE-THE AFTERNOON DELIGHTS...Delightful dance floor tribute to daytime's most revered soap. LUKE, LAURA, and RICK SPRINGFIELD are among those name-checked, interspersed with kitschy dialogue from the show.

---


KISS MY BRASS!...THE TOP TEN MILITARY SHOWS:

MCHALE'S NAVY
GOMER PYLE, U.S.M.C.
THE RAT PATROL
YOU'LL NEVER GET RICH (aka SGT. BILKO)
M*A*S*H
C.P.O. SHARKEY
HOGAN'S HEROES
BEETLE BAILEY (cartoon series)
F TROOP
COMBAT!

---


COME SATURDAY MORNING...THE TOP TEN CARTOONS:

POPEYE (original black & white FLEISHER series)
THE FLINTSTONES
YOGI BEAR
THE SIMPSONS
BUGS BUNNY
ROCKY & BULLWINKLE
THE ROADRUNNER
TOM & JERRY (original MGM series)
DONALD DUCK
SPONGEBOB SQUAREPANTS

---


HAIR TODAY, GONE TOMORROW...THE TOP TEN "HAIR" SHOWS:

(What's a "HAIR" SHOW?...reading the list below will help you get a "lock" on it!)

THE THREE STOOGES
CHARLIE'S ANGELS
HEE HAW
THE BEATLES (cartoon series)
SOUL TRAIN
THE BRADY BUNCH
THAT'S MY MAMA (show revolved around a barber shop)
HELP! IT'S THE HAIR BEAR BUNCH!
BUGS BUNNY (a "HARE" show)
THE NANNY

---


VARIETY IS THE SPICE OF LIFE...THE TOP TEN VARIETY SHOWS:

THE DEAN MARTIN SHOW
THE FLIP WILSON SHOW
THE SONNY & CHER COMEDY HOUR
THE JACK BENNY SHOW
THE STEVE ALLEN SHOW
THE SMOTHERS BROTHERS COMEDY HOUR
THE CAROL BURNETT SHOW
THE JACKIE GLEASON SHOW
THE MUPPET SHOW
HEE HAW

---


BEST OF THE WEST...THE TOP TEN WESTERNS:

GUNSMOKE
HAVE GUN, WILL TRAVEL
THE WESTERNER
BONANZATHE RIFLEMAN
MAVERICK
THE WILD WILD WEST
WANTED: DEAD OR ALIVE
THE BIG VALLEY
BAT MASTERSON
WAGON TRAIN

---


DON'T TRY ANYTHING FUNNY...THE TOP TEN SITCOMS:

THE ANDY GRIFFITH SHOW
ALL IN THE FAMILY
SEINFELD
LEAVE IT TO BEAVER
THE ADDAMS FAMILY
THE HONEYMOONERS
CHEERS
EVERYBODY LOVES RAYMOND
THE DICK VAN DYKE SHOW
M*A*S*H

---


IT'S HOW YOU PLAY THE GAME...THE TOP TEN GAME SHOWS:

THE HOLLWOOD SQUARES
TO TELL THE TRUTH
PASSWORD
FAMILY FUED
YOU BET YOUR LIFE
LET'S MAKE A DEAL
THE PRICE IS RIGHT
THE MATCH GAME
JEOPARDY
CONCENTRATION

---


WHAT ARE YOU, A COMEDIAN?...TV'S TOP TEN COMEDIANS:

JACK BENNY
CAROLE BURNETT
JACKIE GLEASON
BILL COSBY
SID CAESAR
BOB HOPE
RED SKELTON
LUCILLE BALL
GEORGE CARLIN
JONATHAN WINTERS

---


SURREAL LIFE...TV'S TOP TEN FANTASY SHOWS:

THE MUNSTERS
ALF
VOYAGE TO THE BOTTOM OF THE SEA
BEWITCHED
MISTER ED
I DREAM OF JEANNIE
STAR TREK
THE ADDAMS FAMILY
MY FAVORITE MARTIAN
SUPERMAN

---


CHICK FLICKS...TV'S TOP TEN "IT" GIRLS:

JULIE NEWMAR (BATMAN)
BARBARA EDEN (I DREAM OF JEANNIE)
DIANA RIGG (THE AVENGERS)
TINA LOUISE (GILLIGAN'S ISLAND)
MELODY PATTERSON (F TROOP)
CAROLYN JONES (THE ADDAMS FAMILY)
BARBARA FELDON (GET SMART)
ELIZABETH MONTGOMERY (BEWITCHED)
SIVI ABERG (THE GONG SHOW)
FARRAH FAWCETT (CHARLIE'S ANGELS)

---


LOOKING OUT FOR #2...TV'S TOP TEN SECOND BANANAS:

ART CARNEY (THE HONEYMOONERS)
TIM CONWAY (THE CAROL BURNETT SHOW)
DENNIS WEAVER (GUNSMOKE)
DON KNOTTS (THE ANDY GRIFFITH SHOW)
LARRY FINE (THE THREE STOOGES)
MOREY AMSTERDAM (THE DICK VAN DYKE SHOW)
HARVEY KORMAN (THE CAROL BURNETT SHOW)
BARNEY RUBBLE (THE FLINTSTONES)
LARRY STORCH (F TROOP)
MICHAEL RICHARDS (SEINFELD)

---


SO, WHAT'S IN A NAME?...
TOP TEN TV SHOW TITLES THAT SOUND VAGUELY PERVERTED:

LEAVE IT TO BEAVER
MAKE ROOM FOR DADDY
THE DICK VAN DYKE SHOW
DIFFERENT STROKES
THAT'S INCREDIBLE!
LOVE ON A ROOFTOP
EIGHT IS ENOUGH
SHAFT
ME & THE CHIMP
EVERYBODY LOVES RAYMOND

---


ART IMITATING LIFE...
HANNA-BARBERA CARTOON CHARACTERS PATTERNED AFTER TV CELEBRITIES:

YOGI BEAR (ED NORTON, played by ART CARNEY)
SNAGGLEPUSS (BERT LARR)
QUICK DRAW MCGRAW (CLEM KADIDDLEHOPPER, played by RED SKELTON)
FRED FLINTSTONE (RALPH KRAMDEN, played by JACKIE GLEASON)
MOROCCO MOLE (PETTER LORRE)
DADDY DOGGIE, OF AUGIE DOGGIE & DADDY DOGGIE (JIMMY DURANTE)
TOP CAT (SGT. ERNIE BILKO, played by PHIL SILVERS)
WALY GATOR (ED WYNN)
MR. JINKS, OF PIXIE & DIXIE (MARLON BRANDO)
BARNEY RUBBLE (ED NORTON, played by ART CARNEY)

---


FUNDAY SUNNIES...
COMIC STRIPS THAT WERE TURNED INTO TV SERIES:

HAZEL
DENNIS THE MENACE
SUPERMAN
BUCK ROGERS
POPEYE
MISS PEACH
BLONDIE
THE CHARLIE BROWN & SNOOPY SHOW
BATMAN
GARFIELD

---


WIDE-SCREEN TV...PLUS SIZED PERFORMERS:

OTIS CAMPBELL (THE ANDY GRIFFITH SHOW)
WO FAT (HAWAII FIVE-O)
CANNON
FAT ALBERT
MIKE & MOLLY
DOUG HEFFERNAN (THE KING OF QUEENS)
LULU ROMAN (HEE HAW)
RALPH KRAMDEN (THE HONEYMOONERS)
THE SKIPPER (GILLIGAN'S ISLAND)
DUANE DOBERMAN (BILKO)

---


BAD FOR GOOD...THE BEST CARTOON BADDIES:

BLUTO (POPEYE)
YOSEMITE SAM (BUGS BUNNY)
PLANKTON (SPONGEBOB SQUAREPANTS)
WILE E. COYOTE (THE ROAD RUNNER)
TOM CAT (TOM & JERRY)
BORIS BADEVOV (ROCKY & BULLWINKLE)
MR. SPACELY (THE JETSONS)
SYLVESTER THE CAT (TWEETY & SYLVESTER)
MR. BURNS (THE SIMPSONS)
SIMON BAR SINISTER (UNDERDOG)

---


TWO FOR THE SHOW...BEST CARTOON BUDDIES:

TOM & JERRY
QUICK DRAW MCGRAW & BABA LOOEY
YOGI BEAR & BOO BOO
FRED FLINSTONE & BARNEY RUBBLE
RUFF & REDDY
ROCKY & BULLWINKLE
SPONGEBOB & PATRICK
MAC 'N TOSH (aka THE GOOFY GOPHERS)
SNOOPY & WOOODSTOCK
REN & STIMPY

---


CAR-TUNE CORNER...SATURDAY MORNING SINGING GROUPS:

THE BUGALOOS
LANCELOT LINK & THE EVOLUTION REVOLUTION
THE ARCHIES
THE HARDY BOYS
THE BRADY KIDS
THE GROOVY GOOLIES
THE BEAGLES
THE IMPOSSIBLES
THE BANANA SPLITS
THE BEAGLES

---


9 TO 5...WORK ENSEMBLE SITCOMS:

TAXI
THE DICK VAN DYKE SHOW
M*A*S*H
CHEERS
MARY TYLER MOORE
WINGS
BARNEY MILLER
THE DUCK FACTORY
HOT 'L BALTIMORE
THE OFFICE

---


TOO MUCH MONKEE BUSINESS:

LANCELOT LINK
MAGILLA GORILLA
CURIOUS GEORGE
THE MONKEES
PLANET OF THE APES (TV ADAPTION OF THE MOVIE)
GRAPE APE
ME & THE CHIMP
KING KONG (60S SATURDAY MORNING CARTOON SERIES)
THE HATHAWAYS
TARZAN

---


SCARLET FEVER...TV REDHEADS:

GINGER GRANT
JANE JETSON
ARTHUR GODFREY
LUCILLE BALL
CONAN O'BRIEN
YOSEMITE SAM
BATGIRL
WILMA FLINTSTONE
CAROL BURNETT
RONALD MCDONALD

---


CREATURE FEATURE...FAMOUS TV ANIMALS:

FLIPPER
LASSIE
MORRIS THE CAT (9 LIVES)
MR. ED
RIN TIN TIN
ARNOLD THE PIG (GREEN ACRES)
GENTLE BEN
CLARENCE THE CROSS-EYED LION (DAKTARI)
MY FRIEND FLICKA
CHARLIE THE TUNA (STARKIST)

---


BOSUM BUDDIES:

CAGNEY & LACEY
LENNY & SQUIGGY
CLIFF & NORM
THE LONE RANGER & TONTO
FELIX & OSCAR
WAYLAND & MADAM
ROWAN & MARTIN
BATMAN & ROBIN
LUCY & ETHYL
TIMMY & LASSIE

---


THE FACE IS FAMILIAR...ALTER EGOS:

SHOESHINE BOY...UNDERDOG
STANLEY BEAMISH...MR. TERRIFIC
BRUCE WAYNE..BATMAN
AGENT 86...MAXWELL SMART
EL KABONG...QUICK DRAW MCGRAW
CLARK KENT...SUPERMAN
IRON MAN CHARMICHAEL...LUCILLE CHARMICHAEL (THE LUCY SHOW)
PENROD POOCH...HONG KONG PHOOEY
BUFFY WILSON...KIP WILSON (BOSUM BUDDIES)
THE SCARLET PUMPERNICKEL....DAFFY DUCK

---